CEREC® Same-Day Crowns – Colorado Springs
The Speed You Want, The Quality You Deserve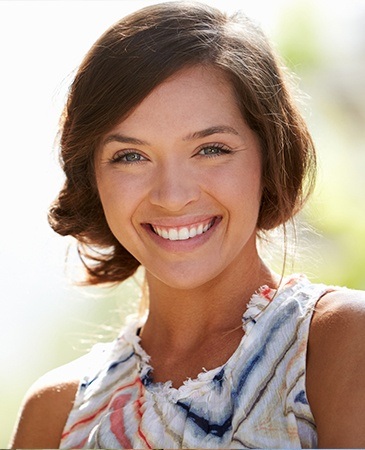 Your time is valuable. Balancing work and family responsibilities leaves very little time, if any, to get the dental care you need. To accommodate the needs of his busiest patients, Dr. Anderson is constantly seeking new technologies to ensure that you get the treatment you need to stay healthy while spending as little time as possible in the dental chair. That's why he offers CEREC one-visit dental crowns.
Why Choose Anderson Family Dental by Espire for CEREC® Same-Day Crowns?
Custom-made dental crowns in just one appointment
Equal in quality to traditional lab-made crowns
Made of strong & natural-looking dental porcelain
CEREC (Chairside Economical Restoration of Esthetic Ceramics) has been used by thousands of dental practices for over 25 years to restore millions of teeth. With CEREC computer technology, it's possible to receive both quick and quality dental restorations. CEREC utilizes 3D imaging and sophisticated CAD (computer-aided design)/CAM (computer-aided manufacturing) technology to assist Dr. Anderson in designing a virtual restoration (onlay, inlay, crown, or bridge) without taking messy putty impressions. When the images and specifications are sent to the in-office milling unit, we're able to build the actual restoration while you wait comfortably in the dentist chair. No second appointments or temporary crowns are required. You get a completely metal and mercury-free dental restoration in just one short visit. If you're time is valuable, you should schedule your CEREC appointment with Dr. Anderson today!
One-Visit Dental Crown Process
Dental crowns are a common treatment that's used to correct an array of dental problems, including large cavities, broken teeth, fractured teeth, and teeth that have undergone root canal therapy.
Traditionally, dental crown restorations took at least two office visits and several weeks to complete. Meanwhile, you'd have to wear a temporary crown and wait for your crown to be fabricated in a dental laboratory. Not only was this method time-consuming and inconvenient, but patients also suffered from discomfort and sensitivity from the temporary crowns. However, with new CEREC restorations, we can provide a more convenient, single-visit dental crown restoration. Dr. Anderson will capture a 3D image of your prepared tooth and create a tooth-colored, porcelain restoration while you wait. What used to take two weeks now only takes about 20 minutes!
Benefits of CEREC One-Visit Crowns
Fast - CEREC can be completed in a fraction of the time it takes to get a traditional dental crown.
Economical - CEREC requires fewer visits and therefore fewer expenses.
High Quality - CEREC utilizes the latest imaging technology for increased accuracy and precision.
Metal Free - You'll get tooth-colored ceramic crowns as opposed to unsightly and potentially dangerous metal restorations.
Schedule Your CEREC Crown Consultation
Dr. Anderson and the Anderson Family Dental by Espire team take great pride in offering patients the most up-to-date dental care treatment options. If you need a tooth restored but you don't have time to waste, simply call today to further explore CEREC one-visit crowns. Anderson Family Dental by Espire proudly serves the entire Pike's Peak region, including Colorado, Springs, Stratmoor, Falcon, Black Forest, and the surrounding communities.