Meet Our Colorado Springs Dental Team
You'll learn to love our dental team at your very first visit! They're friendly, compassionate, and extremely skilled at what they do. They'll greet you with a smile, make sure you feel comfortable in the treatment chair, and answer any questions you might have about your experience here. With them along for the ride, your appointments will always be well-organized and 100% stress-free. You can start getting to know them by reading below:
Katie, Office Manager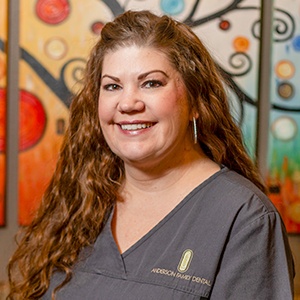 Katie originally hails from Valley Center, CA. She has spent several years working as both a dental assistant and a front office admin – today, her overall career in the field covers over two decades. She loves being able to help people smile through her work!
Katie and her husband Steve have two children named Kyle and Tori. When she isn't busy at the practice, she enjoys practicing photography, doing all sorts of fun arts/crafts, and fixing hair and nails for herself and others.
Nina, Financial Coordinator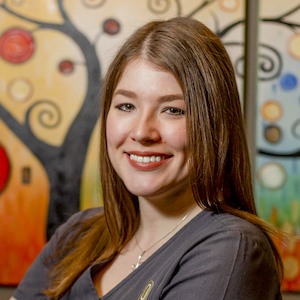 Nina is actually from Berlin, Germany originally, and her career in dentistry covers over eight years so far. She attended both Pikes Peak Community College and Pima Medical Institute for her education and is a certified dental assistant. She loves helping patients smile through her job!
At home, Nina is married and a proud fur baby mama. Her passionate include photography, arts and crafts, listening to music, and spending plenty of time being outside in beautiful Colorado. She speaks German fluently.
Mayra, Welcoming Coordinator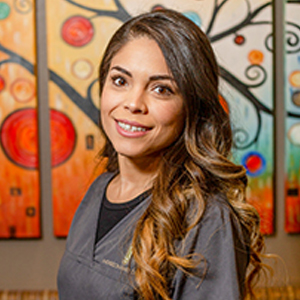 Mayra joined Anderson Family Dental in January 2019. Mayra is originally from San Diego, CA. She loves all the sunshine Colorado offers and loves to take advantage of it by enjoying time outdoors with her family. She has been married for over a decade and has 2 beautiful children, Anthony and Arya. Mayra spent a couple of years at Pikes Peak Community College furthering her education before joining our dental team. She speaks Spanish fluently; Mayra has been a great addition to our dental team.
Danielle, Registered Dental Hygienist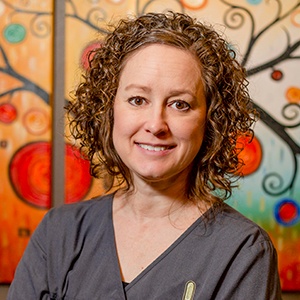 Danielle's career in the oral healthcare world spans over 20 years, and she's always looking forward to meeting and helping new people here at Anderson Family Dental. After attending Milwaukee Area Technical College, she studied dental assisting at Heritage Health Career College and has her certifications in anesthetic and laser dentistry.
Danielle and her husband Ken have four children named Kasey, Briana, Vance, and Danicka, as well as two young grandchildren named Sofia and Bradley. When she isn't busy at work, spending quality time with her family is always a top priority! Her other hobbies include being outdoors, hiking, and reading.
Jean, Registered Dental Hygienist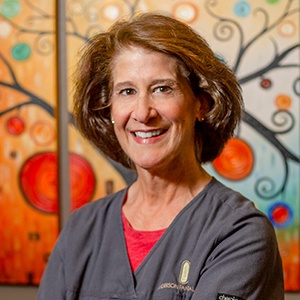 Jean is a Colorado native and has spent nearly 40 years in the field of dentistry. She joined Anderson Family Dental in 2008, and her education includes studies at Northwestern University in addition to certifications in CPR, local anesthesia, and nitrous oxide sedation. Jean enjoys working at a practice that serves the community, and she also likes building long-lasting relationships with our patients and other team members.
Jean has been married for more than 30 years and has two boys. During her free time, she enjoys scrapbooking, reading, and hiking with her dog.
Angie, Registered Dental Hygienist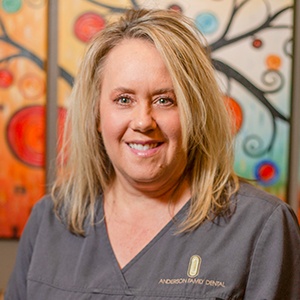 Angie comes to us from Casper, Wyoming, and she's been in the dental field for about 25 years. Her education includes an associate's degree in dental hygiene from Pueblo Community College. She takes the time to listen and understand the needs and concerns of our patients, and she likes working in an office that uses state-of-the-art equipment. Angie is a great fit for the job because she truly cares about people and providing valuable healthcare services while establishing trusting relationships with her patients.
She's a proud mom of three children and enjoys watching football (especially the Denver Broncos), reading, vacationing, skiing, and being involved in her kids' various activities.
Breana, Lead Dental Assistant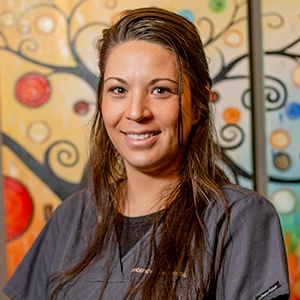 Breana studied dentistry at IntelliTec College at Grand Junction and has also extensively trained in several other advanced services, including E4D CAM/CAM scans, stain and glaze crowns, and IV sedation. She has been working in dentistry for over a decade now and enjoys her position very much.
Breana is proud to be part of a very supportive family, and she has two sons who are her world. Her hobbies include listening to music and attending sporting events – Go Broncos! She also has a unique laugh that you'll probably get to hear while visiting for an appointment.
Kay, Dental Assistant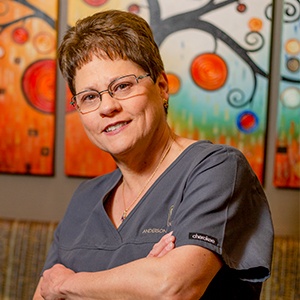 Kay is originally from Kansas, but she's been living in Colorado since 1987. With nearly 40 years of experience in the dental profession, she is a true asset to Anderson Family Dental! For her, the best part about her job is building relationships with our awesome patients and helping them reach their dental goals year after year.
She has been happily married for 27 years, and for fun, she enjoys figure skating, reading, and watching her beloved Jayhawks whenever she can.