Children's Dentistry - Colorado Springs
Helping Children Maintain Healthy Smiles
Because we're a family dental practice, our team sees patients of every age, including children. Our children's dentistry is as thorough as our comprehensive adult dental care, with the addition of a gentle and fun approach that will help your son or daughter feel more comfortable in the dental chair. Our Colorado Springs dental office is here for you and your family at every phase of life.
Why Choose Anderson Family Dental by Espire for Children's Dentistry?
Happy to serve children of all ages—from toddlers to teenagers
Welcoming & kid-friendly office
Many of our team members are parents too!
Children, just like adults, need to visit Anderson Family Dental by Espire regularly. Kids are highly susceptible to cavities, and these regular dental visits can help dramatically reduce the odds of dental damage. During your child's visits, we'll introduce him or her to the dental office environment, helping to set your child's mind at ease and lessening the odds that he or she will suffer from dental anxiety in the future. We'll show your child how to brush, floss, and otherwise care for his or her teeth and gums. These simple measures can make a big difference in your child's lifelong oral health.
First Dental Checkups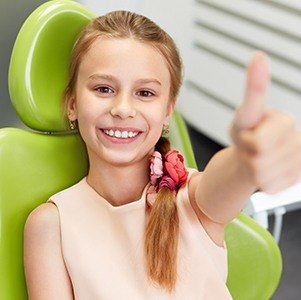 Dr. Anderson encourages you to bring your child in for his or her first children's dentistry visit around the age of three. If you think your child can tolerate it, you can bring him or her in even earlier – as soon as their first baby tooth erupts. Baby teeth are vital for your child's dental development, so it's important that they begin receiving dental attention. When their baby teeth fall out and are replaced by adult teeth, we can use dental sealants and fluoride treatments to offer increased protection from decay.
Dental Sealants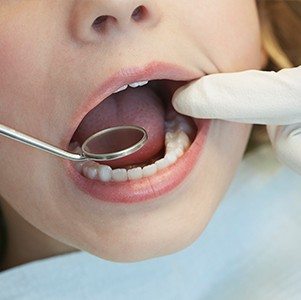 Dental sealants are a clear or white plastic liquid that is "painted" onto your children's permanent molars. Sealants are most appropriate for these teeth because they are naturally more grooved and pitted. Therefore, molars are more susceptible to the tooth decay that can result from trapped food particles. Children are less likely to carefully brush these teeth, making them even more prone to dental problems. But with dental sealants, your children's teeth have a physical barrier to help them battle decay-causing bacteria.
Fluoride Treatments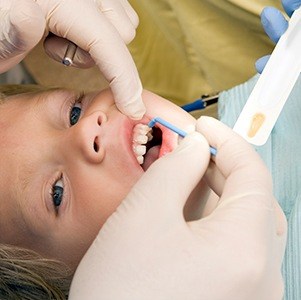 Fluoride treatments also help in the fight against decay. Fluoride is a mineral that has been proven to strengthen tooth enamel. In fact, fluoride is commonly added to drinking water to ensure that the general public ingests enough of this helpful mineral. With the popularity of bottled water, however, you and your children may not be ingesting enough fluoride. For children especially, this can be a threat to their oral health. That's why our team regularly offers fluoride treatments to help kids enjoy strong teeth and happy smiles for years to come.
Schedule Your Child's Dental Appointment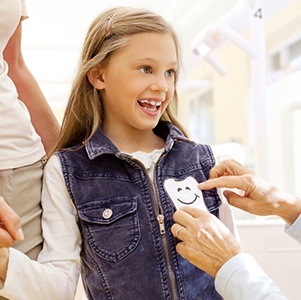 Bring your entire family to Anderson Family Dental by Espire! Patients from Colorado Springs, Stratmoor, Falcon, Black Forest, and the entire Pike's Peak region rely on our team for complete oral health that benefits all ages.