Dentures & Partials – Colorado Springs
Enjoy a Full Smile Again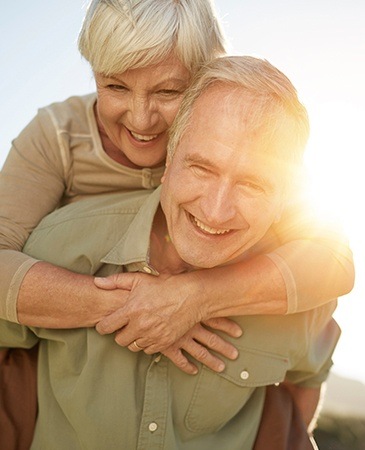 Dentures are prosthetic teeth attached to a gum-colored base, and they provide a natural-looking, stable solution for replacing several or a whole row of missing teeth. Here at Anderson Family Dental by Espire, we provide full and partial dentures in Colorado Springs.
Why Choose Anderson Family Dental by Espire for Dentures & Partials?
Custom-designed prosthetics for every patient
Implant-retained dentures available
Partnered with the best local dental labs
Who Is a Good Candidate for Dentures?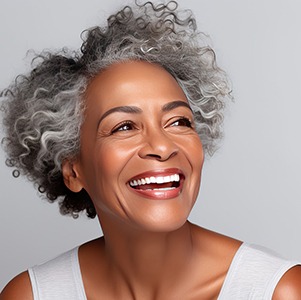 Most people with moderate to extensive tooth loss can get dentures. When you attend a consultation with our team, we will carefully evaluate your situation, learn about your oral health, and determine what type of tooth replacement is best for you. If you are not currently a candidate for dentures, you may become one after some restorative treatments, such as gum disease therapy or other services that will prepare your mouth to support prosthetic teeth.
Effects of Missing Teeth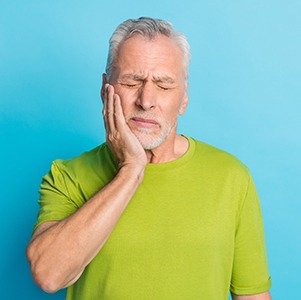 Missing teeth can be the result of injury, gum disease, severe decay, or other causes. Regardless of why your smile is no longer complete, you may be facing a number of difficulties. For example, individuals with missing teeth often find it difficult to eat a wide variety of foods. Your speech may also be adversely affected. It is even possible that your cheeks have a somewhat hollow, sunken look that makes you appear years older than you really are. All of these issues can have a great negative impact on both your self-esteem and your quality of life. Fortunately, dentures are often able to help.
What Qualifies You for Dentures?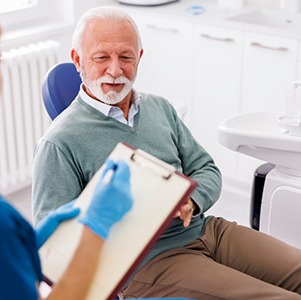 Dentures may be ideal for you if:
You have lost a significant number of teeth. (If you have only lost one or two teeth, a bridge might be a better option for you.)
Your remaining natural teeth are extremely sensitive or suffering from severe decay.
Your teeth are loose due to advanced gum disease.
You are looking for a cost-effective way to rebuild your smile.
There are a few different types of dentures. During your consultation, we will determine if full dentures, partial dentures, or implant dentures are the best fit for your circumstances.
Alternative Tooth Replacement Options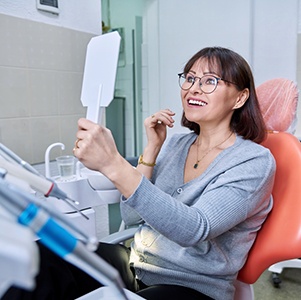 If dentures are not right for you, we might suggest an alternative way to replace your lost teeth, such as:
A fixed bridge. A bridge uses the remaining natural teeth for support. It is a strong and long-lasting way to replace 1 – 3 missing teeth in a row. If your natural teeth are still pretty strong, this solution may be perfect for you.
Dental implants. Dental implants are prosthetic tooth roots. In addition to being able to support dentures, they can also support single crowns and multi-unit bridges. If your jawbone is strong enough to integrate successfully with implants, our team will likely recommend them as the best way to rebuild your smile, regardless of how many teeth you are missing.
Partial Denture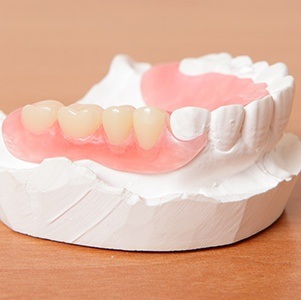 Just like the name suggests, a partial denture is one that replaces several missing teeth when some natural teeth are still present in the gums. The partial can be permanently fixed in place or left removable for easy cleaning. A fixed partial denture is more commonly called a bridge, and it is often used when several teeth are missing in a row. A removable partial can replace teeth from various parts of the mouth. When not secured with dental implants, partial dentures are held in place with a metal frame that clasps to the remaining teeth. The fixed bridge uses the surrounding teeth as anchors for the prosthetic teeth that fill the gap in between.
Full Denture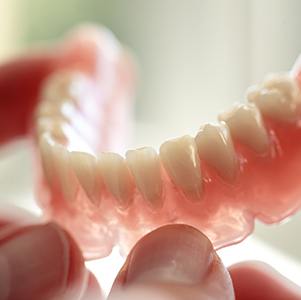 Also called a complete denture, full dentures replace an entire arch of missing teeth. A full denture can be held in place by dental implants, with natural suction, or through the use of denture adhesive. Many patients go through an adjustment phase wearing non-implant retained dentures. Don't be alarmed if you notice sore spots on the cheeks or gums immediately after you receive your dentures – they will heal with time.
Adjusting to Your Denture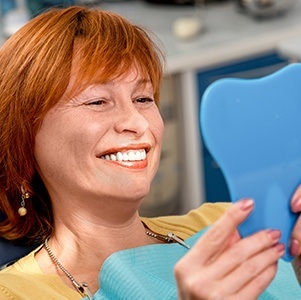 Even the comfortable, natural-looking dentures we provide at Anderson Family Dental by Espire may seem difficult to live with at first, but that's just your mouth's initial reaction to a foreign object. Speed up the adjustment phase with your denture by persevering through it. As tempting as it may be to remove your denture, wear it as directed to help your mouth get used to the new device. Practice reading aloud to retrain your speech with dentures. After a few weeks of continued use, most people find they can eat, speak, and smile with full confidence once again.
Implant-Retained Dentures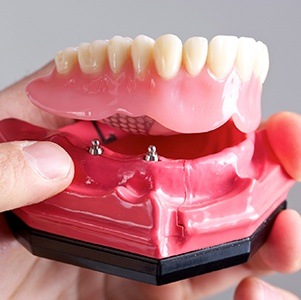 People who are eligible for dental implants should consider retaining their dentures using implant dentistry. Implants are tiny titanium implants that provide unparalleled stability for a denture, and they improve oral health by stimulating the jawbone for years to come. Dental implants take the place of your missing tooth's root, resulting in a truly comprehensive solution to tooth loss.
The benefits of retaining a denture with dental implants include:
No need for denture creams or adhesives
The denture fits properly from day one
Oral health improves with dental implants
The most stable option in tooth replacement
Ideal candidates for dental implants are adult patients who enjoy good oral and overall health and are free of gum disease and other health conditions that affect the immune system. Anderson Family Dental by Espire performs the entire dental implant procedure in our state-of-the-art office.
Are you already missing teeth or teetering on the brink of tooth loss? We can complete your smile with partial or full dentures in Colorado Springs. Contact Anderson Family Dental by Espire to schedule an appointment today!