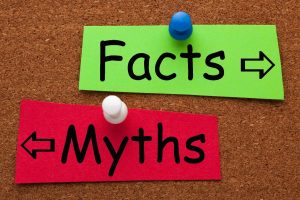 Dental implants are among the most-talked about tooth replacement solutions, and for good reason. They are strong, long-lasting, and highly functional. Still, as much as you might have heard about dental implants, it's possible that not everything you've heard is true. Let's take a moment to debunk four of the most common myths about this treatment.
Myth #1: Bridges Are Better than Implants
A traditional dental bridge is quite sturdy, and it can provide adequate tooth replacement. However, it comes with some downsides. For example, the teeth that support the bridge must be significantly modified. A bridge also does nothing to replace the root of a lost tooth. A dental implant is superior because it is self-supporting and allows nearby teeth to remain intact. It also has a much longer life expectancy than a traditional bridge.
Myth #2: Dental Implants Cause a Lot of Pain
During the dental implant placement surgery, you should feel little to nothing. Following the procedure, some soreness is normal as the bones and soft tissues heal. However, you are highly unlikely to experience any excruciating pain. Your implant dentist will provide you with all the guidance and tools you need to make your recovery as comfortable as possible. After you heal completely and your implant restorations are in place, your new smile should feel 100 percent natural.
Myth #3: Dental Implants Don't Look Natural
Countless individuals across the U.S. have dental implants. Have you ever met one of those people? Unless they directly told you that they have dental implants, you probably had no idea that their smile wasn't the same one nature gave them. That is because well-made dental implant restorations are virtually indistinguishable from real teeth. Implant-supported crowns, bridges, and dentures are custom-made to complement each patient's unique mouth and facial aesthetics.
Myth #4: It's Okay to Buy "Bargain" Dental Implants
If you see a price advertised for dental implants that is too good to be true, it probably is. There may be some fine print that will make the total cost of the treatment much more than you expected. Or, even worse, the practice offering the deal may lack the skills and experience necessary to do a good job with the procedure. When you are shopping for dental implants, be sure to scrutinize a dentist's credentials and read patient reviews. Remember, even though high-quality dentistry presents a significant cost, it is a worthwhile investment in your health and confidence.
In this post, we have debunked a few common myths about dental implants. If you would like to learn even more about this life-changing treatment, schedule a chat with a trustworthy dentist. They'll be happy to answer all of your questions!
About the Author
Dr. Erick Anderson is a general dentist who has extensive training in restoring dental implants. He has even taken courses from the prestigious Misch International Implant Institute. If you would like to learn how dental implants may be able to provide you with beautiful, reliable, and long-lasting tooth replacement, contact Dr. Anderson's office today at 719-593-0988.