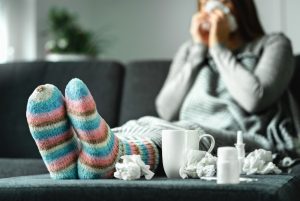 When cold and flu season begins, you may think a lot about what you can do to stop yourself from getting sick. You might get a flu shot, start sanitizing your surroundings like crazy, and decline handshakes with anyone who sniffles. But, despite all of your efforts, you still might catch a bug. If that happens, not only will you feel icky, but your teeth will also be in danger! Here are some flu season tips to help you protect your smile even when you are feeling under the weather.
Don't Neglect Your Oral Hygiene Routine
When you catch a cold or flu, perhaps all you want to do is lounge on the sofa and watch reruns of your favorite sitcom. Even something as simple as brushing and flossing your teeth can seem like a herculean undertaking. However, it is extremely important that you stick to your normal oral hygiene routine. Continue to brush twice a day and floss once a day. If you do not, you are giving bacteria a golden opportunity to create plaque and damage your teeth.
Drink Lots of Water
Decongestants can stop your nose from running, but they can also dry out your mouth. A dry mouth does not have enough saliva to rinse away food particles and bacteria, which means you are at an increased risk of bad breath and tooth damage. Staying hydrated can rinse those harmful substances away and encourage saliva production.
Change Your Toothbrush
It's not likely that your toothbrush will re-infect you after you recover from your illness. However, it would be wise to play it safe and buy a new toothbrush anyway. Doing so may protect your family members from getting infected, and it will help you continue to keep a clean mouth and healthy teeth.
Gargle with Saltwater
Gargling with saltwater might seem like an old folk remedy, but science backs up its efficacy. It can fight inflammation in the throat and stave off harmful oral bacteria. Simply dissolve a tablespoon of salt into a glass of warm water. Then, gargle and spit until the water is gone.
Opt for Sugar-Free Remedies
Some of the remedies that people commonly use to ease their cold and flu symptoms are chock full of sugar. For example, cough drops, throat lozenges, cough syrups, and orange juice all contain a lot of the sweet stuff. Sugar can combine with the bacteria in your mouth and lead to plaque formation, so it is best to consume as little of it as possible. Try to opt for sugar-free medicines. If you do choose to consume something with sugar in it, be sure to wash it down with some water.
A cold or flu can do more than make you feel miserable — it can negatively affect your teeth! Use the above tips to keep your smile in good shape even when you are down and out.
About the Author
Dr. Erick Anderson is an experienced general and family dentist in Colorado Springs. He earned his dental degree from Oregon Health Sciences University in 1994, and he has been in private practice in our city since 2002. If you would like Dr. Anderson's help to safeguard your smile this cold and flu season, he would be happy to give you advice and examine your teeth for any flu-related dental problems. We invite you to get in touch with us at 719-593-0988.