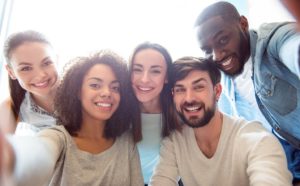 A smile is one of the simplest and most universal human gestures. It can transcend cultural differences, language barriers, and those moments when you just don't know what to say. Smiling is an important part of communication! However, there are additional benefits of smiling that you might not know about. A cosmetic dentist is here to discuss five surprising and practical benefits of smiling.
Improve Your Mood
You might have heard the expression "fake it until you make it." That advice applies to smiling! Even if you are not in a good mood, the act of putting a smile on your face can make you happier. Researchers have discovered that smiling triggers the release of dopamine and serotonin, feel-good chemicals that play a role in happiness.
Recover from Stress
A team of researchers from the University of Kansas recently discovered that when people were asked to perform difficult tasks, they all experienced similar levels of anxiety. However, the people who smiled after they completed the tasks recovered more quickly from the ordeal. The bigger their smiles, the more quickly their heart rates returned to normal.
Make a Great Impression
Various studies have found that an attractive, confident smile can give other people a great impression. A smile can even make you seem more successful and more approachable. These qualities can go a long way toward helping you land that dream job, make a sale, or even secure a date with your crush. Plus, smiling is contagious. The more you smile, the more likely it is that the people around you will smile. That may put them in a better mood and make them feel more relaxed around you.
Look Younger
Some people avoid smiling because they don't want to develop laugh lines on their face. However, as counterintuitive as it might seem, smiling can actually make you seem younger. Beautiful teeth can detract attention away from other signs of aging on your face and help you capture a youthful glow.
Boost Your Immune System
Research from the Loma Linda University School of Medicine's Department of Clinical Immunology found that laughter, which begins with a smile, can increase the number of white blood cells in the body. White blood cells are a critical part of the immune system. Other studies have even found that people who report frequent positive emotions are less likely to develop a cold or flu even after being exposed to a virus.
Unleash Your Smile's Potential
Clearly, a smile is a mighty thing! But what if you hesitate to smile due to aesthetic imperfections in your teeth? Your local cosmetic dentist may be able to help. Treatments like teeth whitening or porcelain veneers may just give you the confidence you need to take full advantage of your smile's powers.
About the Author
Dr. Erick Anderson is a general and cosmetic dentist in Colorado Springs. He has completed advanced education in smile design and offers numerous cosmetic treatments, including porcelain veneers, teeth whitening, dental bonding, and more. To learn more about how Dr. Anderson may be able to help your smile reach its full potential, contact us at 719-593-0988.