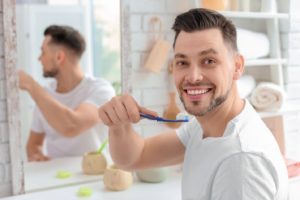 Many people take their gums for granted. However, this precious pink tissue is actually a vital part of both oral and overall health. Not only can gum disease cause pain and tooth loss, but it is also associated with an increased risk of numerous systemic health conditions, including heart attack and stroke. What can you do to maintain healthy gums and protect yourself from the dangers of gum disease? Applying the following six tips can do much to support gum wellness.
Brush Your Teeth at Least Twice a Day
Brushing is one of the primary means by which you can remove gum disease-causing bacteria from your mouth. You should brush every morning and every evening. However, if you find time to brush about 30 – 60 minutes after each meal, that is even better. Be sure to brush the backs of your teeth and the area along the gumline.
Floss
Your toothbrush can get rid of disease-causing bacteria that accumulates along the gumline — but only to an extent. It cannot reach into the tight spaces between the teeth; only floss can do that. The American Dental Association (ADA) recommends that you floss at least once a day to maintain optimum oral health.
Visit Your Dentist for Regular Cleanings
Visiting your dentist at least twice a year for a cleaning and checkup has two significant gum health benefits:
If your dentist spots any early signs of gum disease, they can help you reverse the condition before it becomes serious.
A thorough cleaning removes tartar (the bacteria-filled, hardened version of plaque) from along your gumline. At-home oral hygiene tools are not capable of removing tartar.
Quit Smoking
Cigarettes interfere with the body's ability to fight off infections, including gum disease. Smoking can also contribute to dry mouth and prevent the gums from healing efficiently when they suffer damage. If you smoke, now is the ideal time to work with your medical team to create a "quit plan."
Choose the Right Toothpaste
You should use an ADA-approved, fluoride-containing toothpaste when you brush your teeth. Some toothpastes are even specifically designed to prevent the formation of tartar, fight harmful bacteria, and promote gum health. Your dentist or hygienist can offer product recommendations to help you discover the right toothpaste for your circumstances.
Add a Mouth Rinse to Your Oral Hygiene Routine
Rinsing with a mouthwash for 30 – 60 seconds before or after you brush your teeth can help you clean all the little nooks and crannies in your mouth where bacteria might accumulate. Some are geared specifically to fight or prevent gum disease, while others have more generalized oral health benefits. Whichever product you choose, be sure it has the ADA seal of approval.
Healthy gums are a vital part of a healthy you! Use the above tips to protect this precious tissue.
About the Author
Dr. Erick Anderson is a native of Colorado Springs, and he has enjoyed serving his local community as a general dentist since 2002 — 8 years after he earned his dental degree from Oregon Health Sciences University. He offers a broad range of services, including checkups, cleanings, and gum disease treatment. To learn more about Dr. Anderson and our practice, contact us at 719-593-0988.