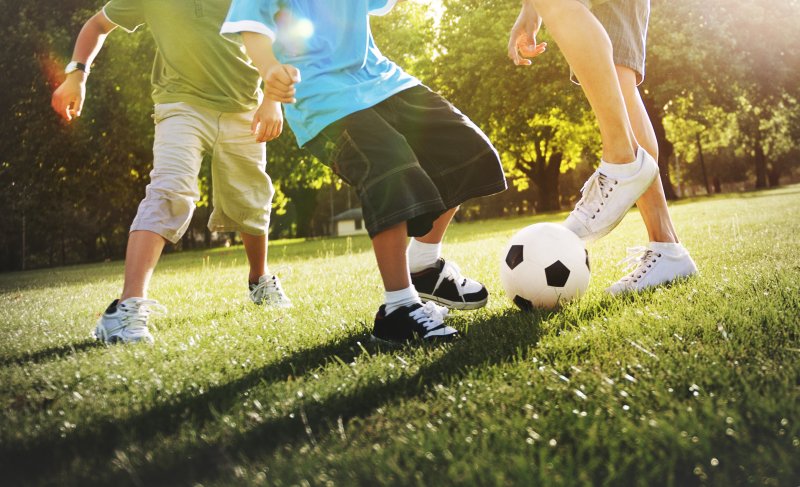 There's nothing better than going outside to warm temperatures and preparing for a fun-filled day. Whether it is spent swimming, playing golf, or enjoying a picnic in the park, summertime offers an endless array of opportunities to get out and spend time with family and friends. It also can raise your risk for potential problems as it pertains to your oral health. From sports-related injuries to bothersome toothaches caused by an infection, here are 3 tips you can use to protect your smile and prevent a potential trip to the emergency dentist.
Wear a Mouthguard
Summer is a great time to get outside and play your favorite sport or engage in your favorite outdoor activity. Whether it is hiking, biking, playing a round of golf, baseball, or softball, your teeth and gums can be vulnerable to serious damage if you're not careful. This is why it's important to wear a mouthguard. These customized oral appliances can minimize potential injury to your teeth, gums, and mouth. A fall or fly ball can cause a knocked-out tooth, soft tissue laceration, or even a broken or fractured jaw. Better protect your smile with the help of a customized mouthguard and feel more at ease while having fun.
Drink Plenty of Water
It can be tempting to reach for a soda or energy drink while enjoying the hot sun, but if you want to take better care of your body and smile, it's best to keep plenty of water nearby. Because sports and carbonated beverages often contain high amounts of sugar and acid, they can eat away at your tooth enamel, causing you to be at risk for decay and cavities. This is why drinking plenty of water will not only help you stay hydrated, but it will also keep your salivary glands working to flush out any bacteria and food particles that might try to adhere to your teeth and cause problems.
Be Mindful of Your Favorite Cold Foods
This one may sound a bit confusing but if you have sensitive teeth, you'll understand. Cold treats like ice cream and popsicles are a great way to beat the heat, but if you experience pain or discomfort while attempting to consume these items, it may be that you have exposed tooth roots that are causing sensitivity. Aggressive brushing, gum disease, and excessive wear and tear caused by bruxism (teeth grinding) can cause this common problem, but by talking to your dentist, they can provide helpful tips and products to minimize the issue. From desensitizing toothpaste to avoiding hard or even acidic foods and beverages, you can still enjoy your summer without the sensitivity.
Knowing how to take better care of your smile will allow you to fully embrace what your summer has in store. But if you need additional help or assistance, don't be afraid to talk to a member of your dental team who can set you and your smile up for success.
About the Author
Dr. Erick Anderson earned his dental degree from Oregon Health Sciences University in 1994. Eight years later, he began his private practice in Colorado Springs and has been helping residents maintain healthy, beautiful smiles ever since. Using state-of-the-art equipment and providing world-class dental care, Dr. Anderson continually stays abreast of the latest advancements in the field. If you are looking to safeguard your smile this summer, contact us via our website or by calling (719) 593-0988 to let us help you better maintain your healthy teeth and gums.