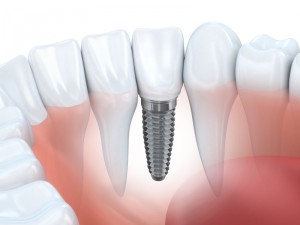 If you're missing teeth, you may experience stress, anxiety and even embarrassment as a result of your gapped smile — but you should know you've got a fantastic replacement option with implant-retained dentures in Colorado Springs. Dr. Erick T. Anderson places and restores dental implants at Anderson Family Dental. Keep reading to learn more about this option today!
Implant-Retained Dentures
Dentures have long been a good way to replace several or a whole row of missing teeth. They're natural-looking prosthetic teeth attached to a gum-colored base — and when the denture is supported by dental implants, it provides you the stability and security you need from your new smile.
Dental Implant Procedure
If you decide that dental implants are the best way to secure your prosthetic teeth, you'll learn all about the procedure from Dr. Anderson. It's carried out over several appointments and may last six to eight months — an investment in time that patients agree is more than worth it in the end.
First, Dr. Anderson surgically places the tiny titanium implants into the space left by each missing tooth. During the recovery phase, osseointegration will cause the bone and implant to fuse together. This process provides the stability necessary for functioning teeth, and the stimulation your jawbone needs to stay healthy and whole for years to come.
Dental Implant Restoration
Once osseointegration is complete, you'll come back to Dr. Anderson's office for the restoration of your dental implants, or when your denture is fitted securely on top of the devices. Anderson Family Dental is one of the few dental practices to offer both implant placement and restoration under the same roof; it's just another bit of convenience we're so happy to offer you.
Benefits of Implant-Retained Dentures
The advantages of stabilizing your dentures with dental implants are sizable — especially when the alternative is a non-implant retained device. Here we've listed a few of the most common benefits of dental implants.
Well-fitting dentures lead to improved oral and overall health

Live free from the hassle of messy denture adhesives

Restore your ability to eat, speak and smile with ease and enjoyment

When cared for properly, dental implants can last a lifetime!
Contact Anderson Family Dental Today
Are you interested in receiving implant supported dentures in Colorado Springs? Don't wait to get in touch with Anderson Family Dental today! Contact us to schedule an appointment and find out if you're a good candidate for this wonderful option in tooth replacement.