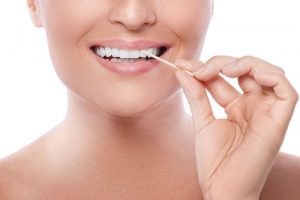 After a delicious meal, you might be tempted to reach for a toothpick. After all, you may have bits of meat or other food debris lodged between your teeth, and a toothpick could seem like a convenient way to freshen up. But are toothpicks bad for your oral health? This blog post explores how they might harm your smile and what you should use instead.
The Risks of Using Toothpicks
Sadly, the frequent use of toothpicks could cause some serious harm to your teeth and gums. Here are a few examples of what they might do:
If a toothpick is frequently inserted into the same place, it may put enough pressure on your teeth to shift them, creating extra space that should not be there.
Many toothpick users tend to chew on them. This can cause premature wear and tear on the tooth enamel.
Toothpicks can damage the gums, causing them to recede and expose the fragile tooth roots underneath.
Toothpicks may splinter, causing small pieces of wood to get stuck in your gums or cause damage in other ways.
Toothpicks may cause damage to existing dental restorations and prosthetics, such as veneers, crowns, and fillings.
You might accidentally puncture your gums with a toothpick's sharp ends. This can increase your risk of infections.
What Should You Use Instead of Toothpicks?
The best way to clean between your teeth is to use dental floss. As long as it is used correctly, it is unlikely to harm your oral tissues. Its flexible nature makes it very good at removing debris caught in the tight spaces between teeth.
If you have mobility problems or other considerations that make it challenging for you to use dental floss, you may be able to use an oral irrigator (also called a water flosser) instead. It is very gentle on the oral tissues and can be a great addition to your oral hygiene routine.
If you want to quickly clean between your teeth after a meal, you could carry a few pre-threaded floss picks with you. A single floss pick should not be used to clean between all of your teeth, but if you have one or two spots of stubborn debris, they can be quite useful.
Toothpicks can damage your smile! Think twice the next time you are tempted to reach for one.
Meet the Practice
Dr. Erick Anderson is a Colorado Springs native with decades of experience in general dentistry. He is proud to serve his community. If you have questions about how to care for your teeth, he and our team would be happy to speak with you. Contact our office at 719-593-0988.