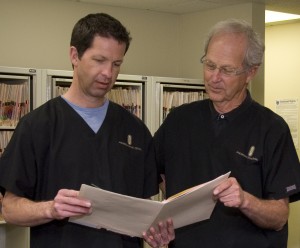 It's not always clear what dentist or doctor to choose. Many patients make decisions based on an ad they see, a recommendation from a friend, or even the nearest location. At Anderson Family Dental, we truly believe we are the best dentists Colorado Springs has to offer, but we also know that patients should make that decision based on dental care needs, dental benefits, convenience, reliability, and service. If you're in need of a new dentist especially if you're new to the Colorado Springs area, we encourage you to schedule a consultation with one of our dentists. The Anderson family has been serving the dental needs of generations of Colorado Springs patients since 1975, and we know you'll be hooked the moment you walk through the door. Call to schedule an appointment today.

Choosing a Dentist, Colorado Springs
When it comes to making even the simplest decisions, we seem to have an overwhelming number of choices. Visit your local grocery store, and take a walk down the cereal aisle. There are hundreds of brands, flavors, and styles. How do you make a decision? When it comes to choosing a dentist in Colorado Springs, you may feel a little overwhelmed. At Anderson Family Dental, we want you to choose the right dentist for you. Before you make a decision, ask yourself a few questions:
What are my dental needs? Every smile is unique, and you need to know what, if any, specialty care you'll need. Be sure to consider your past dental health. Do you frequently get cavities? Struggle with gingivitis or periodontitis? Do you have bruxism (grinding/clenching of teeth) or TMJ disorder? Not every dentist is able to provide equal care for all types of dental health concerns. If you have a family that includes young children, you may want to consider a dentist who will treat your entire family.
What dental benefits do I have? While insurance coverage shouldn't be your only reason for choosing a practice, it does make a difference. Don't hesitate to call a practice to ask about their preferred provider status, or discuss their relationship with your benefit provider.
What do I expect from a dental office, staff, and dentist? Some patients want a dental office that feels like a spa, some want fun activities for their kids, some want bright lights and sterile patient rooms, others are seeking soothing lighting and relaxing music during care. Know what your expectations are, and look for a practice that exceeds them. The physical facility is important, but the qualifications and character of the staff are just as important. Review websites for the practice, and call to ask any questions you may have.
What are others saying? Ask your previous dentist, a medical practitioner, or family and friends for recommendations, and don't forget to ask them what it is they like about their dentist. New in the area and don't have anyone to ask for recommendations yet? While you shouldn't believe everything you read on the internet, check out sites like Google+, Yelp, and the Better Business Bureau to find out what others are saying about the dentists in your area.
Should I find out more? If you've found a practice you're interested in, call to find out about a consultation appointment. You wouldn't buy the biggest box of cereal you could find without trying it and just keep buying more every week even if you don't like it, and you shouldn't choose a dentist that way either. Consultation appointments allow you the opportunity to see the facility, meet the staff, and find out more about services and care the practice offers before you commit to receiving dental care.
Call Anderson Family Dental – For the Top Dentist, Colorado Springs
At Anderson Family Dental, we know we are the top dentists in Colorado Springs, because we offer the best variety and quality of services, work with any insurance company to maximize your benefits, and our facility and team are the best in the area. We are proud to say that generations of families continue to come see us for their dental care needs, but we love to hear it directly from our patients too. A recent Google+ reviewer said, "Anderson Dental has taken care of my teeth my entire life, and now my son's teeth have been in the same great hands all 16 years of his life. Everyone at the office is wonderful, helpful and genuinely cares about their patients!" Let us become your family dental tradition. Call to schedule a consultation today. Our Colorado Springs office proudly welcomes patients from nearby Falcon, Fort Carson, Black Forest, Stratmoor, and the neighboring areas.