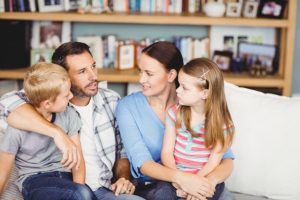 Do you know someone who eats lots of sugar, neglects flossing, and never seems to develop a cavity? Do you know someone else who is diligent about oral hygiene, eats a balanced diet, and still struggles with dental decay and other issues? Both of these situations may be related to genetics. In this blog post, we'll talk about how your genes affect dental health and answer the question, "Can bad teeth run in the family?"
How Your Genes Affect Your Oral Health
There are a number of different ways in which your genes can affect your oral health:
Enamel strength. Some people are genetically predisposed to weak or thin tooth enamel, which is more susceptible to cavities.
Gum disease. Certain genes are linked to an increased risk of gum disease. In fact, up to 30% of the population may be genetically predisposed to it.
The size and shape of your mouth. You might inherit a small mouth or narrow jaw that contributes to overcrowded teeth and their associated dental problems.
Oral cancer. People with certain genetic markers are more likely to develop oral cancer.
Indirect Genetic Influences on Oral Health
Your genes can have a direct bearing on your risk for certain oral conditions, but they can also indirectly affect your teeth and gums. For example, research suggests that a certain gene variant may make some people more prone to crave sweet, sugary foods, which are a leading cause of cavity development. Other people's genes make them more vulnerable to obesity and type 2 diabetes, the latter of which may make gum disease more difficult to control. You might even be more likely to suffer from acid reflux, which can wear away at tooth enamel.
Maintaining a Healthy Mouth Despite Genetic Disadvantages
You cannot control your genetic makeup. But that doesn't mean you are doomed to certain oral health problems. In many cases, good habits and proper professional care can greatly reduce the risk that you will suffer from cavities, gum disease, and other dental issues. Here are a few tips to help you fight back against unfortunate genes:
Stick to a strict oral hygiene routine that includes twice-daily brushing and once-daily flossing.
Visit your family dentist at least once every six months for a cleaning and checkup.
If you know you are predisposed to certain oral health problems, let your dentist know. They can be extra-alert to help you and your children prevent serious issues.
Eat a balanced diet that is rich in tooth-friendly nutrients.
Are bad teeth genetic? To an extent, yes — but you don't have to let your DNA control your oral health. Preventive measures might be able to help you maintain a healthy smile despite any unfortunate genes you may have inherited.
Meet the Dentist
Dr. Erick Anderson has been practicing dentistry since 1994, and he has been proud to serve Colorado Springs since 2002. He offers a range of general dentistry services to families in our community. If you are concerned that you may be at risk for certain oral health problems, he would be pleased to team up with you to safeguard your smile. To learn more about him and our practice, contact us at 719-593-0988.