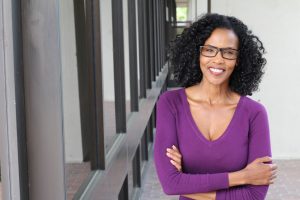 Did you know that people with a beautiful smile are typically perceived as confident, happy, and successful? Your smile may have the power to take you to the next level in your career and personal life. Are you satisfied with the appearance of your teeth? Are there aspects you'd like to change? The team at Anderson Family Dental can help, because we know that cosmetic dentistry can change your life!
Teeth Whitening
There is no quicker and more cost effective way to change your smile than whitening your teeth. It can give your look a much needed boost, and even take years off of your appearance. At Anderson Family Dental, we offer a couple of whitening options to meet all of our patient's needs.
In-office whitening with the ZOOM! system is fast and very effective. ZOOM! is known for removing tough stains that other whitening systems cannot. We'll build a protective barrier for your soft tissues, apply a high strength whitening gel, and activate it with a special light. In one short appointment your teeth will become 6-10 shades lighter.
We also offer take-home whitening trays, for great results at home. We'll make custom fit trays from impressions of your teeth, and send you home with whitening gel. Our recommendation is to whiten every day for two weeks to achieve your desired results, and then you'll be able to update your look any time you like.
Porcelain Veneers
Made from a thin layer of porcelain, dental veneers are bonded directly to your tooth. They're ideal for restoring issues such as:
Discoloration and staining
Small chips and fractures
Wear
Misshapen teeth
Spacing or gaps between teeth
Veneers are custom blended to match or enhance your existing teeth, and they are resistant to staining which means you won't have to worry about whitening. They can be used to repair one tooth, but are best utilized to transform an entire smile.
Dental Implants
For patients living with missing teeth, dental implants can be life changing! Not only do they restore the beauty of your smile, they also protect the integrity of your oral health, and they do it by replacing both your root and your tooth. Implants are reliable and offer a 95% success rate; they're also durable and can last for decades with the right home care and regular dental check ups.
Dr. Erick Anderson and Dr. Richard Anderson are proud to offer comprehensive implant care at our practice, including surgical placement and restoration of dental implants.
If you'd like to improve or enhance the appearance of your smile, whether you're thinking of whitening or something more complex, start with a consultation at Anderson Family Dental. Give us a call today to schedule your appointment and learn about the possibilities for your smile.