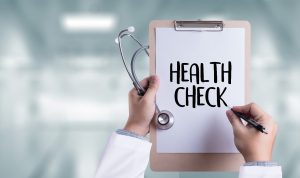 Your mouth is a gateway to the rest of your body, so it stands to reason that what happens inside it can affect your overall health. But is the reverse also true? Have you ever wondered, "Can my physical health have an impact on my oral health?" The answer to that question is a definite yes! Let's discuss a few ways in which your overall wellness can affect your teeth and gums.
Diabetes
Diabetes makes it more difficult for your body to ward off infections, and it increases the risk of dry mouth. Those are a few of the reasons why individuals with uncontrolled diabetes are at a greatly increased risk of developing gum disease. The relationship between the two conditions is also a two-way street; gum disease can also make it more difficult for you to manage your diabetes.
Asthma
Prolonged, regular use of inhalers to fight asthma attacks can decrease saliva production. Without enough saliva to rinse away food particles and bacteria, your teeth are at an increased risk of developing cavities. The coughing associated with asthma is also dangerous for your teeth because it can lead to acid reflux, which may allow stomach acid to creep into your mouth and erode your tooth enamel.
Stress and Anxiety
When you are stressed or anxious, muscles throughout your body naturally tense up — including the muscles in your jaw. You may even grind or clench your teeth. Thus, you are at an increased risk of TMD and premature wear and tear on your enamel.
Unhealthy Lifestyle
Whether you love junk food, you don't get much physical activity, or you struggle with tobacco addiction, such habits can have a detrimental effect on your oral health over the course of months or years. For example, poor dietary choices, like eating a lot of sugar, cause dental decay. A lack of exercise may be a big factor in the development of diabetes. Smoking is a significant risk factor for gum disease.
What You Can Do
While the above information might seem a little scary, its goal is not to make you feel like your oral health is doomed — even if your overall health is far from perfect. Here are some steps you can take to protect your smile and your body:
Regularly visit both your dentist and your primary care provider (PCP). Make sure that your dentist is aware of any medical conditions that you have been diagnosed with.
Find healthy ways of relieving stress. Your dentist can also provide you with a nightguard to protect your teeth from involuntary grinding while you sleep.
Adopt healthy habits. You don't have to completely change your lifestyle overnight. Instead, focus on setting little goals (for example, cutting back on sugar or quitting smoking) that can benefit both your oral and overall health.
The state of your body and mouth are closely linked. Doing what you can to safeguard your overall health can play a big role in protecting your teeth and gums.
About the Author
Dr. Erick Anderson, DMD, is a native of Colorado Springs who is proud to serve the oral health needs of families in our community. He offers many restorative services, but he is also a big believer in the power of prevention. If you would like to speak to him about how you can protect your oral health from suffering due to any medical conditions you may have, contact our office at 719-593-0988.