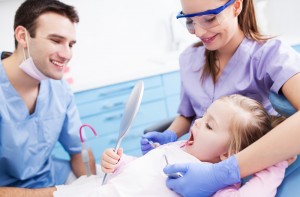 Every year in February, the American Dental Association (ADA) observes National Children's Dental Health Month, teaming up with oral healthcare professionals across America to emphasize the importance of children's dentistry. At Anderson Family Dental in Colorado Springs, CO, Drs. Richard L. and Erick T. Anderson provide children of all ages with the comprehensive, preventive dental care they need to enjoy a lifetime of bright smiles and exceptional oral health.
The Importance of Early Dental Care
When you begin practicing proper oral hygiene with your child when they're young, you're paving the way for a future of happy, healthy smiles. In addition to daily tooth brushing at home, it's important to make sure your tiny tots see us at Anderson Family Dental for regular checkups and cleanings. We may suggest fluoride treatments to strengthen tooth enamel and sealants to help prevent decay caused by foods and drinks. From the moment your child steps through our doors, we will do everything we can to ensure a calm, pleasant experience. After all, we're all about patient comfort here, no matter how old you are!
While experts recommend that your children make their first trip to the dentist at around the age of three, please feel free to bring your little ones in even earlier if they are comfortable doing so. We'll even see them as soon as their first baby tooth erupts, assessing their oral development from an early age for the best start possible.
Keep Your Kid's Smile Healthy!
Whether this will be your child's first visit to the dentist or you need to schedule their next dental checkup, we want to help! Contact our office in Colorado Springs, CO today and ask about how our wide range of children's dentistry services can help keep your little one's teeth and gums healthy and strong. We also proudly serve families from throughout the surrounding areas of Stratmoor, Black Forest, Fort Carson, Falcon and beyond.