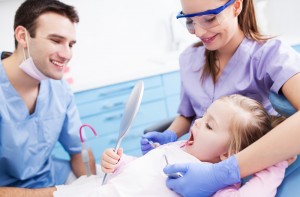 Halloween is just around the corner. The kids are thinking about costumes, trick or treating, and of course, candy and other sweet treats. As their parents, you need to think about how to keep their teeth strong and healthy this Halloween and throughout the season. At Anderson Family Dental in Colorado Springs, CO, children's dentistry is practiced with equal amounts of competence, care and comfort. And just the right amount of fun is thrown in for good measure.
Children's Dentistry at Anderson Family Dental
The dentists at Anderson Family Dental, Dr. Erick T. Anderson and Dr. Richard L. Anderson, recommend children begin to see the dentist regularly around the age of three or sooner if you think they're ready. By the time your children are three years old, most if not all of their baby teeth will have erupted. And yes, it's important to clean that first little white tooth after feeding. Just wipe with a washcloth or gauze soaked in warm water. As more teeth erupt, you can use a soft child-sized toothbrush and small amount of toothpaste.
When you begin to bring your children to Anderson Family Dental, we'll first make them feel comfortable in the dentist's office, thereby setting the foundation for a lifetime of enjoyable dental care. We'll also show you and your child how to properly brush and floss their teeth. Once baby teeth have been replaced by adult teeth, we'll apply dental sealants. A thin layer of sealant is applied to the teeth and allowed to harden. Sealants help to protect the teeth against bacteria that cause decay. Likewise, we can use fluoride treatments for added protection.
Make an Appoint Today for Your Child's Dental Check-up
Is it time for your children to visit the dentist? Then call Anderson Family Dental in Colorado Springs, CO, today. And know that when you do, you'll be helping your children begin a lifetime of good oral health care. Drs. Erick T. Anderson and Richard L. Anderson also serve child and adult patients in Falcon, Fort Carson, Black Forest, Stratmoor and the surrounding communities.