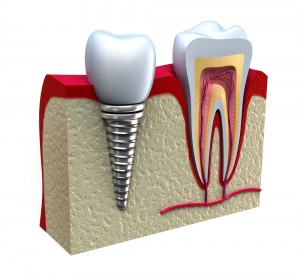 Your smile is typically the first feature that people notice when they see you. If you are missing one or more teeth, it's likely that you often hide your smile from others. This can lead to embarrassment in social situations and may even impact your professional life. Fortunately, Dr. Erick T. Anderson and Dr. Richard L. Anderson can provide patients in and around Colorado Springs, CO with a restorative solution in the form of dental implants.
Are Dental Implants Right For Me?
At your consultation at Anderson Family Dental, we'll assess the health of your gums and the density of the bone in your jaw. If we find that you're a good candidate for dental implants, our team will walk you through the steps of the entire process in a way that is straightforward and easy to understand. To replace your missing tooth, your doctor will implant a small post made of titanium into the gum and jaw bone where your natural tooth once stood. This post will serve as your new tooth's secure root. A porcelain crown that has been customized to match your existing teeth will then be affixed to the implanted post. The result is a completely natural-looking new tooth that completes your smile and restores your bite.
Restore Your Smile with Dental Implants
If you've been living with missing teeth and you're ready to take the first step toward a happier, healthier smile, contact our office in Colorado Springs, CO today. Drs. Richard and Erick Anderson also serve families in the surrounding communities of Stratmoor, Fort Carson, Black Forest, Falcon and beyond. We look forward to giving you something wonderful to smile about!