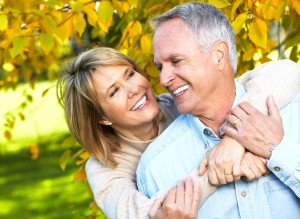 At Anderson Family Dental in Colorado Springs, CO, Dr. Erick Anderson and Dr. Richard Anderson depend on you as much as you depend on them. When you're seated in the dentist's chair—or even when you're at home brushing your teeth and flossing—we want you to make us aware of any concerns you have about your oral health. That's why we place a premium on patient education. With this in mind, the dentists and their team at your Colorado Springs dentist office want you to know the signs and symptoms of gum disease. That way, if you notice any of them, you don't have to wait until your next regularly scheduled checkup. Call our office, tell one of the staff what's going on and we'll schedule an appointment for you. There's no reason to wait, because if what you're experiencing is a sign of gum disease, then the sooner we treat, the better off you and your mouth will.

Warning Signs of Gum Disease
Your gums are red instead of pink, and are beginning to look a bit swollen and feel tender.
When you brush or when you try to floss, your gums bleed.
You have chronic bad breath and/or a bad taste in your mouth.
There is pus in between your teeth and gums.
Your gums look like they are receding, or pulling away from your teeth.
Your teeth don't fit together the way they used to and your bite feels different.
Some of your teeth are starting to loosen.
If you wear a partial or full denture, the fit feels different and possibly uncomfortable.
Treating Gum Disease with the Top Dentist in Colorado Springs
Gum disease is a result of plaque buildup on your teeth and especially along the gum line. Plaque is filled with bacteria, which produce toxins that can begin to infect your gum tissue and the bone structure that supports your teeth. If not removed with once a day brushing and twice a day flossing, plaque hardens to become tartar. At this point, infection and inflammation begin. Tartar can only be removed by your Colorado Springs dentist with professional periodontal care.
Contact Your Colorado Springs Dentist Today
To avoid any of the signs and symptoms of gum disease, Drs. Anderson encourage patients to adhere to a strict oral hygiene routine at home and to schedule and keep your dental checkup appointments. At Anderson Family Dental we proudly serve families throughout Colorado Springs, CO, Stratmoor, Falcon, Black Forest, and nearby areas.