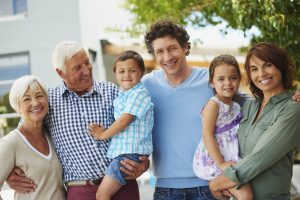 Think of all the things you and your family share—the same dessert, the same car, and maybe even the same bathroom. It's not always convenient, but you share anyway. There is one thing that would, in fact, be truly great if you could share—the same dentist. Your schedule is busy enough without having to juggle more than one dentist for all of your family's smile needs. Colorado Springs dentists Drs. Erick and Richard Anderson and their staff offer a complete menu of dental services. We're the one-stop-shop for patients of all ages, so you never need to go elsewhere to receive dental care.
Colorado Springs Children's Dentist
For the youngest members of the family, dental checkups should begin around the age of three. Children are often more susceptible to tooth decay than adults. These biannual visits are an opportunity for the dentist to examine their teeth and spot problems while they are small and easily remedied. The dental hygienist will also clean their teeth and show them the best way to brush and floss at home.
Periodontal Therapy
Sometimes we discover gum disease during a patient's regular checkup. In this case, we offer periodontal therapy. Gum disease is caused by bacteria that become trapped in plaque, which is a sticky film that accumulates in the mouth day in and day out. Discovered early when gum disease is called gingivitis, a more stringent cleaning routine at home may be all that's necessary to arrest and reverse the effects. However, if gum disease has advanced to become periodontitis, then we offer planing and root scaling to remove plaque and calculus (hardened plaque) from above and below the gum line.
TMJ Therapy
If you or someone in your family begins to notice pain when you attempt to open or close your mouth, then an examination for temporomandibular joint disorder—TMD—may be recommended. Other common symptoms are:
Headaches
Fatigued facial muscles
Teeth sensitivity
Feeling as if your jaw is stuck or locked in place
Earaches without a sign of infection
Dr. Erick attended the Dawson Center for Advanced Dental Study to learn how to treat TMD. He will be able to diagnose and treat according to what is causing your discomfort. Treatment options include wearing a nightguard or intraoral splint, orthodontic treatment or lifestyle changes to manage stress and diet.
Sleep Apnea Therapy
Another one of our family dentistry services is sleep apnea therapy. If you or a loved one snores loudly and feels tired during the day, then the problem may be sleep apnea. This condition causes breathing to pause frequently during the night. We can prescribe a custom-fitted oral appliance to ensure free breathing so you can once again sleep well.
Call Our Office
For all of your family's dental health needs, count on the Colorado Springs dentists at Anderson Family Dental. To schedule an appointment, contact our office today.