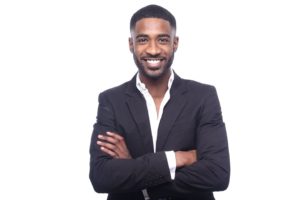 A good education, a strong work ethic, and an agreeable personality are all often regarded as essential elements in a successful career. But even if you have all those things in spades, you might still be lacking something: an attractive smile. If your teeth are crooked, stained, chipped, or missing altogether, your coworkers and employer (and potential employers) might unintentionally hold you back in your career. You might even be holding yourself back if flaws in your teeth are negatively affecting your confidence. Let's discuss how cosmetic dental treatments can enhance your smile and maybe even give you an extra edge in the office.
The Halo Effect
About 100 years ago, a researcher named Edward Thorndike coined the phrase "halo effect" to describe a phenomenon wherein people notice one of your good qualities, so they automatically assign additional positive traits to you. The halo effect has been studied time and again since it was first introduced, and research has concluded that an attractive smile creates a powerful "halo" for the person who owns it.
Just how powerful is a nice smile? Various studies have found that it can help you close a sale, land a job, and motivate your team members to perform better. Also, a healthy-looking smile can give the perception that your overall health is good, which makes employers think that you are less likely to take sick days.
Smiling for Success
The most important element of a powerful smile is authenticity. Your smile should be genuine and confident. However, many people find it difficult to smile with confidence if their teeth have significant aesthetic problems. That's where cosmetic dentistry comes into the picture. It can change the way you feel about your own smile and effect how others perceive you. With treatment, you can:
Achieve a straighter smile. A Kelton Global study found that people often attach positive attributes like wealth, success, and intelligence to those with straight teeth. In some cases, you do not even need orthodontic treatment to straighten teeth. Porcelain veneers might be able to correct minor misalignment.
Get rid of stains. Especially in the U.S., yellow teeth are associated with old age, while white teeth are seen as a sign of youth. Professional whitening services are able to quickly get rid of most types of dental discoloration.
Repair and replace damaged teeth. Metal-free dental restorations can improve both the function and appearance of your teeth, resulting in heightened confidence and an irresistible grin.
Are you ready to move forward in your career? Making over your smile might help you reach your professional goals!
About the Author
Dr. Erick Anderson is a general and cosmetic dentist in Colorado Springs. He earned his dental degree in 1994 from Oregon Health Sciences University. Since then, he has undergone extensive continuing education in many aspects of dentistry, including smile design. He finds great satisfaction in helping patients love the way their teeth look. To learn more about Dr. Anderson and the services he offers, contact our team at 719-593-0988.