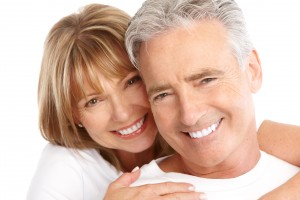 At Anderson Family Dental, Dr. Erick Anderson and his team of dental hygienists and dental assistants understand that you might not want to hear you have a tooth that needs a crown. First, that means your tooth is damaged enough to require a restoration. And secondly, there's the time you'll need to carve out of your busy schedule in order to have the crown placed. Well, here's some good news—Anderson Family Dental offers CEREC one visit crowns. CEREC stands for Chairside Economical Restoration of Esthetic Ceramics. With this state-of-the-art technology, Dr. Erick can prep your tooth, fabricate your crown and set it all in the course of one appointment.
Dental crowns are commonly used to repair a number of dental problems including severe tooth decay, a cracked tooth, a broken tooth or a tooth that needs protection after root canal therapy. Traditionally, crowns required at least a couple of office visits scheduled several weeks apart. In between appointments, patients would need to wear a temporary crown while the permanent crown was created in a dental lab. With CEREC same day crowns, however, we can restore your tooth quickly and efficiently.
More about CEREC Crowns
The CEREC system at Anderson Family Dental consists of a digital camera, 3D CAD software to design your tooth restoration and a milling unit that fabricates your new crown in our office. Dr. Erick begins the procedure by making sure you're completely comfortable. Then, once the affected tooth and the surrounding area are adequately anesthetized, we'll prepare your tooth for the new metal-free crown.
Using the CEREC camera, we then take a digital impression of your tooth, which is transferred to the system's computer. With this image, the 3D CAD software creates a virtual model of your tooth and designs your crown. The design, which includes the restoration's correct color, shape and biting surface, is sent to the milling unit in our office. This milling unit uses high-speed burs to accurately fabricate the CEREC crown in only about 20 minutes. Once milled, the restoration can be polished or stained for even more lifelike appearance.
Finally, Dr. Erick carefully inspects your new crown, checks the fit and cements it into place. Thanks to the convenience and efficiency of CEREC one visit crowns, your tooth is completely restored.
Call Our Office Today
If you would like to learn more about CEREC crowns, then call Anderson Family Dental. Dr. Erick and his team welcome patients from Colorado Springs, CO, Falcon, Fort Carson, Black Forest, Stratmoor, and the neighboring areas.