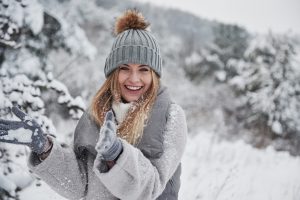 Here in Colorado, we tend to love winter. It is the season when we can head to the slopes for our favorite cold weather sports and enjoy delicious hot coffee by a roaring fire. As lovely as winter is, though, it can take a toll on our lips, mouth, and teeth. How can you deal with common winter mouth issues? This blog post contains some simple and practical tips.
Sensitive Teeth
If your tooth enamel is thin, the tubules in your dentin (the second layer of your teeth), can carry sensations to the tooth's nerve, causing sensitivity. Sensitivity can also occur as the teeth expand and contract in response to temperature changes. To minimize your discomfort, you should:
Breathe through your nose when you are outside.
Drink hot beverages through a straw.
Talk to your dentist about any new sensitivity. You might have a cavity or other issue that requires treatment.
Consider using a desensitizing, fluoridated toothpaste. Fluoride can help to replace bits of enamel that get lost through everyday wear and tear.
If you plan on being outdoors for an extended period of time, consider wearing a balaclava that covers your mouth.
Dry Mouth
Humidity levels tend to drop during winter, which can contribute to dry mouth. If you catch a cold or flu, the problem may become even worse as you breathe through your mouth and take medications that have dry mouth as a side effect. Here are a few tips to minimize dry mouth:
Drink plenty of water.
Chew sugar-free gum or suck on sugar-free candy to stimulate saliva production.
Limit your caffeine intake.
Chapped Lips
Low humidity can suck the moisture right out of your lips, causing them to chap and even crack. Some ways that you can address chapped lips include:
Use a humidifier in your home to keep the air moist. This can be especially useful if you have wood heat or another form of heat that tends to make the air dry.
Stay hydrated by drinking plenty of fluids.
Use a product that moisturizes your lips. Lip balm and petroleum jelly work well. You might find that such products work better if you gently exfoliate your lips first to get rid of any dead skin that might be interfering with your lips' ability to absorb moisture.
Canker Sores
Canker sores are more common in winter due to things like dry mouth and a higher rate of cold and flu cases. If you develop a canker sore, ice, anti-inflammatories, and oral anesthetics can relieve your discomfort. Persistent or severe cold sores may require a dentist's attention.
Winter can cause some discomfort for your mouth. Fortunately, there are practical things you can do to keep your smile functioning and feeling its best.
Meet the Dentist
Dr. Erick Anderson has decades of experience as a general dentist. As a Colorado Springs native, he greatly values our community and wants to help patients enjoy great oral health season after season. If you have questions about proper winter mouth care, he would be happy to speak with you. Contact our office at 719-593-0988.