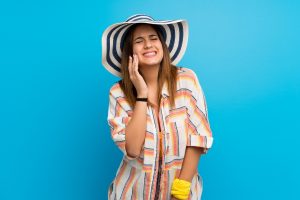 A dental emergency is distressing no matter when or where it takes place, but it is especially stressful if you are far away from home — and far away from you regular dentist. What should you do if you find yourself in such a situation? Here are some tips from an emergency dentist to help you manage your pain and acquire the help you need to get back to feeling your best.
Prepare
When you're preparing to take a trip, the possibility of a dental emergency might be the last thing on your mind. However, taking a few simple precautions before you hit the road can prevent and/or lessen the stress of an oral health crisis when you're away from home.
Go in for a checkup. Your regular dentist can alert you to any developing problems that might lead to trouble later on. You may be able to get such issues fixed before you leave.
Look into insurance. Does your dental insurance allow you to visit any licensed dentist? You might have to buy a special policy to cover any dental treatment you may receive when you are in another country.
Save your dentist's contact information. Even if you are far away from your regular dentist, you should still feel free to call them during a dental emergency. They can provide you with guidance on how to handle your situation.
Treating Your Dental Emergency
When you call your dentist, they might advise you to seek help from an oral health professional right away. If you are in the U.S. it should be easy for you to find a qualified dentist. However, if you are traveling abroad, it may be wise for you to ask your travel insurance provider or hotel concierge to point you to dentist who is worthy of your trust.
Before you visit a dentist, you might be able to perform some basic first-aid to manage your pain and minimize the damage to your oral health:
Take OTC painkillers and apply ice to minimize discomfort and swelling.
If you lose a tooth, gently rinse it off and try to replace it in its socket. If you get to a dentist within an hour or so, they may be able to splint it back into place.
If you lose a crown, you might be able to temporarily reattach it with a dab of toothpaste or dental adhesive from a local pharmacy.
If you develop a toothache while you are on an airplane, it might simply be due to changes in air pressure. If the pain doesn't go away soon after you land, you may have a more serious problem that requires professional care.
Hopefully, your next trip will be full of healthy, pain-free smiles. But if you do run into a dental emergency, use the above tips to make the best out of a bad situation.
About the Author
Dr. Erick Anderson is a general dentist in Colorado Springs who is always ready to help patients in need; he is often able to treat emergency cases on a same-day basis. If you ever experience a dental emergency, or you have other concerns about your oral health, contact Dr. Anderson's team right away at 719-593-0988.