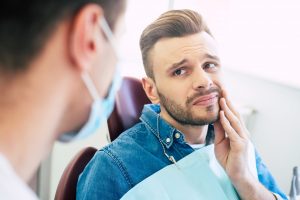 Emergencies come in all sorts of manifestations. You could have a medical emergency, a wardrobe emergency, a work emergency — or dental emergency. When you discover that your mouth is in sudden, serious pain, you may be at a loss as to what you should do. You may even be on the verge of panic. However, there is no need to be unduly frightened. In this blog post, we'll discuss both how to identify a dental emergency and what you should do to cope with the situation.
How to Identify a Dental Emergency
Some common types of dental emergencies that require prompt treatment include:
A knocked-out tooth
A partially dislodged tooth
A broken tooth
A severe, throbbing toothache
A dental abscess
A lost filling or crown
If you are ever unsure of whether your situation is a true dental emergency, it is best to err on the side of caution. Give your dentist a call right away and explain the situation in as much detail as you can. Your dentist will provide you with guidance on your next steps. They may advise you to visit their office as soon as possible; many dentists offer same-day appointments for emergency patients. In other cases, such as if you suffered a jaw injury or are bleeding excessively, your dentist will urge you to visit the local emergency room before you visit them for follow-up care.
Coping with a Dental Emergency
Between the time your dental emergency begins and the time you visit your dentist, there may be a few steps you can take to manage your pain and minimize the damage to your mouth:
If one of your teeth gets knocked out, gently rinse it off and replace it in its socket if possible. If you get to the dentist within an hour or two, it is possible that they'll be able to splint the tooth back into place.
If you lose a crown, try to find it. You might be able to temporarily reattach it to your tooth with a mild dental adhesive until you visit the dentist. However, don't try to force it onto your tooth if it is broken or misshapen.
Take mild painkillers to manage your discomfort. You should not place aspirin directly on the gums because it could cause chemical burns, but you can swallow it for pain relief. Some people find that clove oil is an effective, natural anesthetic.
Use a cold compress to mitigate swelling.
If you are bleeding, apply gauze to the area. If the bleeding does not stop, head to the local ER.
Avoid chewing with the damaged tooth. Trying to force a damaged tooth to function will only worsen the situation.
A dental emergency can be a frightening occurrence, but you can make the best out of a bad situation by following the above advice.
About the Author
Dr. Erick Anderson is a general and emergency dentist in Colorado Springs. He and his compassionate, friendly team are always ready to help patients who require urgent care. Contact our team right away at 719-593-0988 if you ever experience a dental emergency.