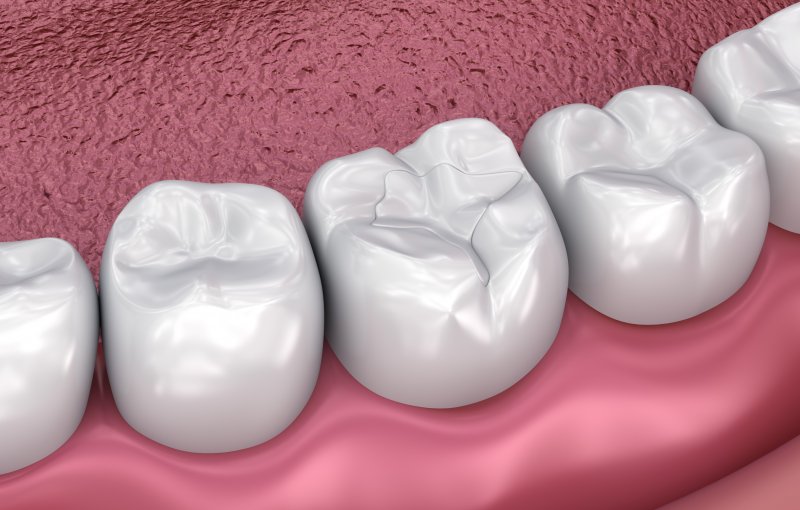 When decayed or damaged teeth leave you feeling self-conscious and unsure about your smile, you may wonder if there's anything you can do to treat the problem. Do you need dental fillings? Is it necessary to have one or more crowns placed? Knowing the signs is important if you want to avoid more serious oral health problems, which is why a local dentist is here to share the symptoms you should look for and which type of filling can restore your smile.
Identifying Cavities: The Signs to Look For
If you know someone who has lived with a cavity and you think you may be suffering from one as well, you may try to base your symptoms on what they experienced. Unfortunately, no two situations alike, which means not all signs are the same. While it is common for cavities and tooth decay to cause a toothache or serious pain, there are other ways to tell you may need a dental filling:
Tooth sensitivity – If you have receding gums, worn tooth enamel, or overactive nerves within your teeth and soft tissues, you may feel increased sensitivity.
A visible dark spot or hole in a particular tooth – Can you see a dark spot or small hole in a tooth? If so, this is a clear sign you have a cavity that needs to be addressed immediately.
A lost or broken filling – If you've had a filling in the past but suddenly notice your tooth feels different, you've likely lost your restoration and need to seek the help of a professional.
Which Filling Can Save Your Smile?
In the past, dentists traditionally used amalgam to fill cavities. Consisting of silver, gold, and other metal alloys, these proved effective; however, as time progressed, researchers discovered the dangers of traditional amalgam. Not only can they be toxic to the environment and the body, but they also shine a light on dental work that most people prefer to keep hidden.
Fortunately, there is an alternative solution that many professionals now use – tooth-colored fillings. With these beautifully blended restorations, your dentist can easily repair the decayed portion of your tooth before filling it with a composite resin. This substance is highly malleable and allows you to keep more of your natural tooth structure. Because it can be color-matched to your natural enamel shade, you can prepare for a method of treatment that blends in naturally with your existing smile. This not only ensures a tight seal and better protection for your tooth, but it also takes the focus off your dental work because no one will ever notice.
If you begin to notice changes to your teeth that cause you concern, don't ignore the signs. Get in to see a qualified dentist as soon as possible and prepare to receive a dental filling that is not only effective but also allows for a more beautiful appearance.
About the Author
If you are suffering from dental decay, it's time to let Dr. Erick Anderson help. Earning his dental degree from Oregon Health Sciences University in 1994, he has the experience, training, and knowledge to help you combat tooth decay and embrace a healthier, more beautiful smile. As the leader of Anderson Family Dental, he and his team will craft a filling that not only blocks out bacteria and prevents reinfection but also creates a blended and complete smile for improved aesthetics. If you are suffering from tooth decay and need help, contact us via our website or by calling (719) 593-0988.