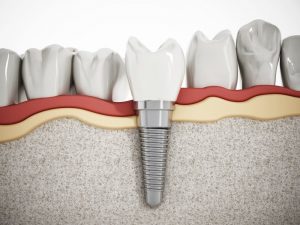 When deciding whether or not to replace your teeth, you must do a lot of research. The bottom line is that replacing your missing teeth is the best decision you can make for your oral health, but what dental restoration is the best for you? Dentists all around agree that dental implants are one of the most effective and long-lasting replacements available, but there are a few negative misconceptions about dental implants that may ward patients away from them.
As your trusted dental team, your dentist wants you to make an informed decision based off of true facts. This week's blog post is about 5 dental implant myths to throw to the wayside.
5 Dental Implant Myths & Misconceptions
1.      Implant Supercenters
When looking to replace your teeth, you may come across many advertisements from implant "supercenters" that claim to be the leaders in implant dentistry. While these promises of new teeth in a day may sound attractive, it's important to understand that these promotions are designed to advertise and not really inform you of the facts. Their main selling point is that everything can be in one location—which may be convenient—but convenience isn't the only thing you should be considering when researching oral surgery.
2.      Doctor Qualifications
The true fact is that not every dentist is qualified to complete success dental implant  placements. There's simply no comparison when it comes to the amount of advanced training that oral surgeons and periodontists receive during their post graduate programs. They specialize in advanced technology used to accurately place implants and understand the true inner and outer workings of your mouth.
3.      Teeth-in-a-Day Promise
When you really want to replace your missing teeth, the sound of having a complete smile within 24 hours is highly attractive, but sadly, unrealistic. It's true that the dental implants can be placed within 24 hours as well as a provisional dental prosthetic. However, the entire dental implant process is much longer. This statement isn't meant to deter you from getting them—successful dental implants are well worth the invested time.
4.      Bargain Dental Implants
With almost anything in life, if it sounds too good to be true…it probably is. Bargain dental implant treatment rarely is a true bargain. In fact, in the cases that you find an unrealistic deal, cutting corners may result in dental implant failure. This can lead to costlier dental work and loads of inconvenience.
5.      Mini Implant Placement
As mentioned above, finding a way to shortcut the process may be costly in the end. Many patients may be sold on the idea that mini dental implants are more ideal for retaining dental prosthetics. The truth is that mini implants are meant to be a short-term solution and may end up needing traditional implants to enjoy a permanent solution to their tooth loss.
For patients considering dental implants, it's difficult to determine which information is accurate. The best way to get truthful information that can help you solve your tooth loss problem is to speak to your local dentist.
---
Meet Your Dentists
Here at Anderson Family Dental, we take dental implant placement seriously. Dr. Richard L. Anderson has been practicing since 1966 and merged his practice with his son, Dr. Erick Anderson in 2002. Each of our dentists have advanced training and extensive experience with a variety of dental issues. With our history of successful dentistry, the team at Anderson Family Dental can help patients throughout the complete process of dental implants, from their initial consultation, to placement, to final restoration.