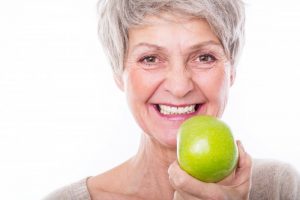 If you've ever had missing teeth, you have probably heard about how much dental implants can make a difference in your overall quality of life. Not only do you have a functional smile again, but your confidence increases with better aesthetics and the ability to chew and speak as normal.
However, just because your smile has been restored doesn't mean that you'll never have dental concerns in the future. In fact, there are a few different reasons why your dentist may recommend that you have your implants restored. Learn more about implant restoration in this week's blog post!
Why Do Dental Implants Need Restorations?
There are several reasons why you may need to restore your dental implants. The most common causes of this dental problems are infection or bone loss to support your implant post which can lead to late-term implant failure.
The technical term for an infected implant sire is peri-implantitis. This infection develops around the implant and in the gum tissue that surrounds your implant. Unfortunately, when you don't maintain your oral hygiene, this can occur. Over time, it can lead to bone loss and leave you with a loose, painful implant.
On the other hand, your implant could become damaged and need restoration. Thankfully, your implant dentist can assist you with either of these dental concerns.
How Can Your Dentist Solve Your Implant Problems?
After facing tooth loss before, the last thing you want to do is deal with another dental problem. Your dentist is here to help you recover your smile's health and stability quickly.
First, your dentist will check the affected area to see what the cause of your discomfort is. Depending on your situation, the solution could be as simple as a thorough cleaning where the infection is present. The damaged tissue will be removed from around the implant post and the area will be thoroughly disinfected. However, there are extreme cases as well where tissues grow over an implant. You'll need to seek professional assistance from your implant dentist.
In the case that your actual implant post isn't damaged, you'll have a new, custom-made prosthetic made.
Prevent Problems with Dental Implants in the Future
The biggest takeaway that your dentist wants you to know is that you can prevent problems with your dental implant if you practice good oral hygiene care at home and by visiting your dentist regularly. In addition to brushing and flossing, clean around the implants carefully and use an antibacterial mouth rinse.
These practices will keep your mouth clean, gums strong, and your dental implant in great condition for a lifetime!
---
About Our Office
Here at Anderson Family Dental, we do everything in our power to make sure our patients smile last a lifetime. Even when we replace teeth, we do our best to make sure that you don't face any more stressful situations with your restorations, like peri-implantitis. Nonetheless, we're here to help you in any situation! Give us a call today to see how we can improve your oral health.