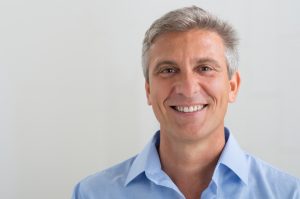 You were always the type of person who liked to know how things worked. When you were younger, your room would be littered with parts of deconstructed clocks. As you've become an adult, you've graduated to a garage filled with disparate car parts. You've recently decided to get your missing teeth replaced with dental implants in Colorado Springs, and naturally, you want to know what they are made of and how they work. Dr. Erick and Dr. Richard Anderson from Anderson Family Dental can give you all the details about the basic parts of dental implants.
1. The Titanium Root
The key to the effectiveness of dental implants is that they are the only procedure that replaces your tooth below the gum line. This is accomplished by placing a new titanium root into your jaw. This root is actually a small metal post, and it serves two main purposes. Firstly, it gives your new tooth a firm and steady base by securely anchoring it into your jaw. Secondly, it help's stimulate nourishing blood flow to the surrounding area.
It is able to do this because the titanium root is bio-compatible. This means that once it has been placed into your jaw, it will naturally bond with the nearby bones and vascularity. This can prevent and even reverse the tissue loss that is common after tooth loss. This implant can be used to restore a single tooth, anchor a bridge, or even support a set of dentures.
2. The Porcelain Crown
The second part of the dental implant restores your tooth above then gum line, and this is the porcelain crown. This crown is able to give you a tooth that mimics a natural tooth in both look and functionality. It fills in the gap left in your teeth and looks beautiful at the same time. It is one of the few procedures that can help you both medically and cosmetically.
The crown actually has a few advantages over your natural teeth. Firstly, it will never decay, and secondly, it is non-porous. This means food and drink cannot stick to it, making it practically stain-proof.
3. The Abutment
This is metal connecter that holds the crown to the root. It works like a screw to give you a steady hold and keep the crown in place.
How They Come Together
We are proud to be able to handle your entire implant procedure here at Anderson Family Dental.
The process starts by surgically implanting the titanium root into your jaw. This surgery can typically be completed with only local anesthesia and requires minimal healing time.
Over the course of the next 4-8 months, this new root will naturally bond with your jaw. Once this process is completed, you will come back to the office and have your porcelain crown connected to the root with the abutment. Implants are easy to maintain, and can look great for decades with only routine brushing and flossing.
Any Questions?
Dental implants are one of the most comprehensive and effective ways to replace your teeth, and we want you to know everything before you get them. If you have any questions about how dental implants work, please give us a call today. We know we're the best place to help restore your smile, so don't wait to come see us.