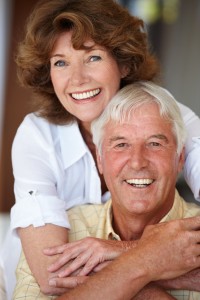 I saw something interesting recently, about averages in America. The average American may weigh a little more each year, but the rate of missing teeth seems to be going down a little bit — and that's good news. Still, the average American adult has three or more decayed or missing teeth. That's too many. The gaps caused by missing teeth affect more than our self-confidence — they can also make it difficult to say certain words, and even to bite into our favorite foods. I, for one, love biting into a fresh apple, and I want to make sure all of my patients can enjoy the same simple pleasure. That's why at Anderson Family Dental we urge dental implants in Colorado Springs — for a better smile, today and tomorrow. Keep reading to learn more.
Dental Implants are a Stable Replacement Option
You've got several options when it comes to replacing missing teeth, but none come as close to replacing your whole tooth as dental implants. That's because dental implants allow us to replace more than just the visible part of the tooth — we also replace its root. That's important because your tooth's root is vital to the health of your jawbone — without the root, your jawbone will deteriorate, leading to even more tooth loss later on.
Dental Implants: The Procedure
Dental implants are tiny titanium posts that Dr. Anderson, your implant dentist in Colorado Springs, surgically places into your jawbone. After a recovery period of about two to six months (during which you'll receive a temporary tooth replacement), you'll come back in for the placement of your permanent tooth replacement.
Once that's complete, you'll have your full, beautiful smile — and we promise it's one you won't ever want to hide again.
Dental Implants: The Candidate
Many people are excellent candidates for dental implants. You must have adequate existing jawbone structure for the implants to be successful, as well as good oral and general health overall. Using the latest technology, we're able to quickly verify you're a good candidate for your dental implant procedure before we even begin discussing a treatment plan.
Dental Implants: The Investment
If you're wondering if dental implants are worth the investment, we can tell you quite simply: they are. When cared for properly, dental implants can easily last the wearer's lifetime. That's simply not the case with other options, like crowns on fixed bridges, which usually must be adjusted at some point, as the mouth changes shape in reaction to jawbone deterioration.
Request Your Appointment Today
If you're interested in learning more or finding out if you're a good candidate for this excellent treatment option, don't hesitate to request your appointment for dental implants in Colorado Springs and Briargate at Anderson Family Dental today. Because you deserve to feel good about your smile, and we want to help you on your way there.