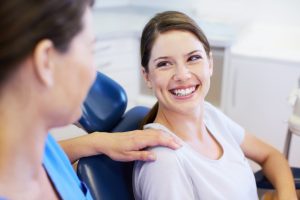 Fall brings about insurance benefit enrollment time for most companies. As you're reviewing your coverage and care, this is also a good time for your team at Anderson Family Dental to remind you to maximize your dental benefits before the end of the year. What does this mean? If you don't use them, you'll lose them.
How Dental Insurance Benefits Work
Most dental insurance benefits have a yearly maximum amount they will pay towards your preventative care and treatment. Most plans run on a calendar year, so by December 31st, if you haven't used those dollars they unfortunately won't roll over to next year's benefit, they'll be gone.
For this reason, it's important to review your dental needs for 2016. Have you had both of your cleaning and checkup appointments? Most plans cover those for patients. Do you have any outstanding treatment you've put off such as a dental crown or filling? Now is a good time to complete those appointments and maximize your benefits for the year.
Our Staff Can Help You
We understand that insurance benefits can be confusing, and that's why our friendly and knowledgeable staff is on hand at Anderson Family Dental to answer any of your questions about your insurance benefits and outstanding treatment. Call us to find out how to make the most of your insurance dollars.
The Importance of Preventative Care
Many dental plans provide full coverage for your six-month cleaning and checkup appointments. Drs. Erick and Richard Anderson believe that preventative appointments are your best line of defense against oral issues such as periodontal (gum) disease, oral cancer, and tooth decay. We screen for these issues at every checkup appointment, and believe it or not, we can actually detect these conditions earlier than you can.
Being proactive about your oral health may help protect you from costly and invasive treatment down the road. So if you haven't completed both of your cleaning and checkups for 2016, now is the time to schedule.
At Anderson Family Dental, we want to be your partners in optimum oral health, and help you achieve and maintain a beautiful smile for a lifetime. We offer a full range of services for both children and adults designed to meet all of your needs under one roof. We invite you to contact us today to learn more about your dental benefits, any treatment you might need. Our staff can help you get your appointment scheduled before the busy holiday season starts.