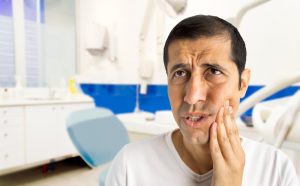 One thing that can ruin any day is a toothache—especially one that just won't quit! If you have a toothache, you should start seeking assistance from your local dentist. But first, your dentist (as well as you) should know the cause of the toothache! Find out the top 10 reasons why your tooth may have started to ache in this week's blog post.
The Top 10 Reasons Why Your Tooth is Probably Aching
1.      Tooth Decay
The number one reason why teeth can become achy is because of deep set decay in the tooth. This comes from poor oral hygiene, plaque, and tartar buildup over time. These bad habits can take a toll on the smile and can cause unnecessary wear and tear on the teeth and jaw. Once your enamel becomes worn, it's possible that you could experience sensitivity. The more the decay attacks the tooth, the more dental pain you will experience.
2.      Misaligned Smile
If you're undergoing an orthodontic treatment to straighten your smile, you could experience toothaches. Braces, retainers, and other alignment treatments are a common cause for dental pain and aching among teeth. You might notice it right away when your dentist adjusts your orthodontic treatment, or it could occur a few days after your tightening appointment.  Reach out to your dentist to address it.
3.      Chronic Teeth Grinding
If you grind your teeth, the enamel that is meant to protect your teeth may become worn. As mentioned above, the more your enamel disappears, the more sensitive your teeth become, the more you can experience dental pain like a toothache. This problem has a simple solution if addressed early on: custom mouthguards.
4.      Impacted Wisdom Teeth
Many people know that when wisdom teeth (the very last set of molars) start to develop, the back of the mouth may ache. This is normal, and you might need to have your wisdom teeth extracted to address this problem. However, if your wisdom teeth are stuck below the gum line, you may experience excruciating dental pain. Your dentist may need to preform oral surgery to remove them from below the gums.
5.      Damaged Dental Restorations
Overtime, dental restorations may become damaged. This may cause pain for a multitude of reasons. If you experience a damaged restoration, your dentist will be able to determine the cause of your discomfort and help you repair your damaged dental work.
6.      Brushing Too Roughly.
Dental pain has many causes—even from brushing your teeth too hard. If you use a hard-bristled tooth brush, you could be scraping away the enamel of your teeth. As mentioned above, your enamel is in place to protect your teeth. When it wears away, you may feel aching or you could feel nothing. However, the absence of pain is not the sign of a healthy mouth.
7.      Overall Sensitivity
Although we've mentioned it a few times in this list, tooth sensitivity is a major problem that can cause patient's teeth to become unbearable. Luckily, it's easy to address with fluoride-infused products and fluoride treatments from your dentist. In the case of extreme sensitivity, you can discuss dental bonding or veneers with your dentist.
8.      An Actual Dental Accident
Due to wear and normal functioning, your teeth can become cracked. When a tooth is broken or fragmented, obviously can will feel uncomfortable. Depending on how far deep the crack ventures, you could experience extreme pain that needs to be addressed right away. In the case of a dental emergency like that, you should contact and visit your dentist right away.
9.      Gum Disease
Gum disease symptoms can start with dull pain in the mouth, red, swollen, bleeding gums, and also sometimes tooth pain. If left untreated, teeth, gums, and your jaw bone could be damaged. You could end up facing tooth loss, bone loss, and need dental surgery to repair your teeth and smile.
10.  Tooth Abscess
A tooth infection is never easy to deal with because they can be extremely painful—especially when the infection reaches the root of the tooth. The best way to save your tooth at that point is to receive a root canal from your dentist, as it is costlier to replace a tooth. It's best to save the teeth you have! Otherwise, you risk losing the tooth altogether.
As you can see, toothaches are signs of much larger dental problems than just your initial dental pain. Get help from your dentist right away!
---
About Our Office
Here at Anderson Family Dental, we don't want any of our patients to feel like they are alone when facing dental pain. You can feel comfortable reaching out to our office in your time of need. We're here for you through all your dental concerns!