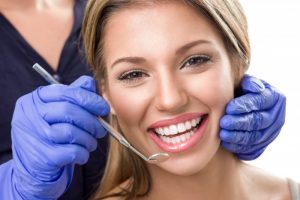 You visit your dentist every 6 months—or at least you should be—and every time, you're intimidated by the gleaming tools that are laid out right next to your dental chair. You can't help but to wonder, "What are those?!"
Although they might not look like the most forgiving tools to go in your mouth, your hygienist uses them to meticulously clean your teeth during your visits. Learn more about the different types of dental tools that your dentist uses in this week's blog post.
Explore Your Dentist's Tools
The Mouth Mirror
This is probably the least intimidating of all the dental instruments you see next to your chair—but it's still very important. The mouth mirror is a small mirror attached to a metal stick. It helps in two ways:
Allowing the dentist to view places in the mouth that would require your dentist to move around to see. This makes it easier to find tooth decay or other potential oral problems that would otherwise go undetected.
It also gives the dentist an easy way to move your tongue or pull on the inside of your cheek without having to use their hands.
The Sickle Probe
This instrument (also known as the dental explorer) has a long handle with a sharp-looking hook on the end. It may be more intimidating than the mirror, but it's used to explore pockets between your teeth and remove dental debris like plaque and tartar.
The Scaler
While a sickle probe is effective at removing small areas of plaque and tartar, scalers are more essential for the actual act of scaling teeth and gums. If you have gum disease or periodontal disease, you might have heard of scaling. If not, this is the act of deep cleaning between teeth and gums, scraping off hardened tartar from your smile. It can be a bit uncomfortable, but it's completely necessary and this tool helps your hygienist do it.
The Suction Device
When a dentist is exploring your mouth, they often need a dry surface free of saliva secretions. A suction device is a long tube attached to a vacuum that removes saliva and water from your mouth. Your dentist will typically rinse your mouth and then suck away the liquid to continue working.
Dental Drill
Perhaps the most feared of all tools is the dental drill because of its intimidating sound. However, it's the most effective way to remove tooth decay before filling a cavity. While the dental drill can feel uncomfortable because of vibrations on your teeth, it's painless with the help of a local anesthetic.
Don't Hesitate to Ask Your Dentist
If you visit your dentist and feel uncomfortable at any point, you should always ask them your questions or have them address your concerns. This even goes for the tools that your dentist will be using on your teeth. They will be happy to educate you on your oral health care!
---
About Our Office
Here at Anderson Family Dental, we believe that communication is key. We understand that a patient's mouth is an intimate place and want to make everyone feel as comfortable as possible while receiving their necessary dental work. If you have any questions or concerns, feel free to call our office today