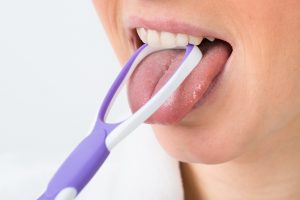 You regularly brush and floss your teeth, and that's fantastic! But is there something you're forgetting? Good oral hygiene is about more than getting the plaque off your pearly whites. If you truly want a mouth that is healthy and fresh, you must remember to clean your tongue. Your dentist in Colorado Springs explains why this is so important and how you can keep this important little organ free of harmful bacteria.
The Consequences of a Dirty Tongue
Your tongue's slightly rough texture comes from the countless little bumps that cover it. These tiny bumps, called papillae, contain the taste buds. While we love papillae for helping us enjoy our favorite snacks, they can also easily trap bacteria, tiny bits of food, and dead skin cells between them. Then, a mucus layer can cover those particles, trapping them in place.
If you don't regularly remove bacteria and food particles from your tongue, you can face some unpleasant consequences, one of which is halitosis (bad breath). The bacteria from your tongue may also transfer onto your teeth and increase your risk of developing cavities.
How to Clean Your Tongue
Cleaning your tongue may be as simple as adding another step to your brushing routine. After you've cleaned all the surfaces of your teeth, spit out your toothpaste, but don't rinse yet. Then, gently scrub your tongue from back to front with your toothbrush. It's a good idea to gently clean the roof of your mouth and the interior of your cheeks as well.
For an even more effective way to clean your tongue, purchase a tongue scraper. This inexpensive tool is especially designed to clear away the tongue's mucus layer and the icky stuff that may be trapped beneath it. Before you brush your teeth, stick your tongue out and use gentle pressure to move the scraper along it from back to front; going in this direction is important because you don't want to accidentally ingest the bacteria that was on your tongue. Repeat this motion until you've cleaned your entire tongue.
Here are a few more notes about cleaning your tongue:
If you have a sore or other wound on your tongue, it may be best to avoid using a scraper until you've healed.
If you have a sensitive gag reflex that makes it difficult for you to clean your tongue, relax your tongue as much as possible and exhale when you're touching a particularly sensitive part. Exhaling may help you override the gag reflex.
Let Your Dentist Help
If you've done your best to clean your tongue and still have bad breath, or if you notice other problems with this organ, don't hesitate to ask your dentist about your concerns. They can give you personalized oral hygiene advice and inspect your mouth for any issues that might need professional attention.
A clean tongue is an important part of a healthy mouth! Be sure to clean this important group of muscles every day.
About the Author
Dr. Erick Anderson is a native of Colorado Springs and has been practicing dentistry for over 20 years. If you have questions about how to maintain a healthy mouth, or if it's time for your next checkup, he would be happy to help! Contact our office at 719-593-0988 to schedule an appointment.