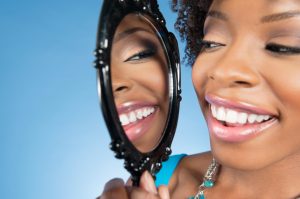 When you look in the mirror, do you love the smile you see? If not, you join more than half of adults who are also concerned about the appearance of their teeth. You may feel like it is something you simply have to live with, but it is not. Cosmetic dentistry offers an array of effective procedures to improve the appearance of your teeth. As a dentist in Colorado Springs, we offer several procedures that can fix the cosmetic flaws preventing you from loving your smile.

How Can Cosmetic Dentistry Help Me?
How you feel about your smile plays a significant role in your confidence and how others view you. If you do not love your smile, chances are you have low self-esteem and avoid certain social settings. This decreased enjoyment for life can affect your career prospects as well. In addition, certain cosmetic issues, such as poorly aligned teeth, can even hurt your oral health. Cosmetic dentistry will give you an attractive, healthy smile while boosting your confidence.
After performing an initial consultation and getting to know more about the results you hope to achieve, we will recommend one or more procedures to transform your smile. A few of the options we may recommend include:
Cosmetic Dental Bonding: This is a simple, noninvasive procedure used to improve the shape of the teeth. Using a composite resin material that matches your enamel color, chipped, cracked, or abnormally shaped teeth will be given a more attractive appearance. After the resin is customized to match your enamel and applied to the teeth, a special light is used to quickly harden the material.
Porcelain Veneers: The thin porcelain shells are bonded to the front side of the teeth to hide cosmetic flaws, like discoloration, chips, and minor alignment concerns. By doing so, your teeth will have improved shape and proportion using a long-term solution. Since porcelain is used, your smile will be stain resistant and have a natural-looking appearance. The procedure is minimally invasive while producing drastic results in just two appointments.
Teeth Whitening: Using a professional-grade whitening agent, the enamel is deeply penetrated to lift away tough stains. With our whitening treatment, you will enjoy professional results from the comfort of your home. We provide you with the whitening agent and custom-made trays to use at home, around your own schedule. Your teeth will become several shades whiter with results that last in just a couple of weeks. No matter if you have discoloration from aging, foods, or smoking, you will have a brighter, whiter smile.
Your Dentist for a New Smile
As a cosmetic dentist in Colorado Springs, we know just how important it is to have a flawless smile. At Anderson Family Dental, we will get to know you and your concerns to provide truly personalized services to help you achieve your dream smile.
Love the smile looking back at you in the mirror. Restore your confidence with an attractive smile by contacting Anderson Family Dental today to schedule your consultation. We look forward to seeing you smile.