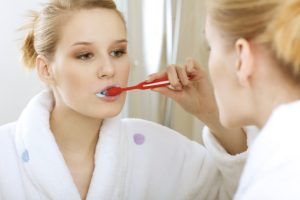 If you have recently made the decision to invest in your quality of life and oral heath with dental implants, you have made a wise choice. Dental implants are the most preferred solution to treat tooth loss, which is why more than 500,000 dental implants are placed each year. Offering over a 95% success rate, the benefits of the implants are endless. In addition to a lifelong solution to replace missing teeth, caring for them if far more convenient than that of other dental prosthetics. As your dentist in Colorado Springs, we have the information you need to properly care for your new smile.

Caring for Dental Implants
The foundation for dental implants relies on a titanium biocompatible post, which is surgically inserted into the jawbone. This replaces the root of the tooth while also providing the support needed for the prosthetic crown.
Due to the material used and the process to insert the post, your jawbone will naturally fuse to the implant. After you are healed, an abutment is attached to the post. The abutment is needed to anchor the prosthetic tooth to the implant. In addition, the abutment allows the gum tissue to heal correctly. This not only offers a natural appearance, but helps to seal out infection. About two weeks after the abutment is placed, your custom-made dental crown is attached the abutment.
Infection is the biggest threat for dental implant failure. Your oral hygiene routine will include a few extra steps to prevent infection. In addition to brushing your teeth twice a day and flossing daily, you need to use extra care to remove food particles and plaque from the abutments. Water flossers make this process easier. In some cases, special mouth rinses may be recommended to help keep bacteria levels in the mouth to a minimum.
In addition to caring for the abutments and posts, you will also need to care for the dental crown. The dental crown is not subject to decay or staining, but it will still need to be cleaned each day. You will brush the tooth just as you brush your natural teeth, but do not use any abrasive toothpastes and be sure to use a soft-bristled toothbrush. Abrasive products can cause scratches to the replacement tooth.
While the prosthetic tooth is strong and durable, it can break. Therefore, do not use your teeth as tools, open nuts with your teeth, or eat overly hard foods. This can lead to the tooth becoming damaged, such as cracking or breaking. With the right care, your prosthetic crown will likely last longer than 10 years before needing replaced.
Your Dentist for a New Smile
When compared to other options to replace missing teeth, dental implants are the most convenient and confident solution. You will eat and speak without having to worry about slipping or irritation. There is no need for messy adhesives or expensive cleaning solutions. Simply care for the dental implants as you care for your natural teeth.
If you are ready to restore your smile with dental implants in Colorado Springs, contact Anderson Family Dental today to schedule a consultation.