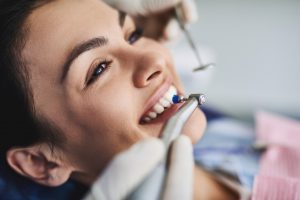 Do teeth cleanings hurt? If it is has been a few years since your last dental appointment, it is natural to ask this question. Perhaps you do not remember your most recent cleaning very well, or maybe you are concerned that after having missed a few appointments, it might take more effort for your dental team to get your teeth clean. Let's talk about what teeth cleanings feel like and what you can do to ensure that your experience is as comfortable as possible.
What Teeth Cleanings Feel Like
A routine cleaning doesn't typically cause any pain. You may feel some pressure as your hygienist uses a special tool to remove plaque and tartar from your teeth. While this may not exactly feel good, most people find it easy to get through. And the reward of a freshly cleaned mouth is more than worth it!
Unfortunately, though, there are some factors that might lead to discomfort during a cleaning. For example, if you have significant tartar buildup, it will be more difficult for your hygienist to get rid of it. Their efforts to scale your teeth might get a bit painful. Inflammation in the gums and cavities may also contribute to discomfort during cleanings.
How to Make Cleanings More Comfortable
One of the most important things you can do to make your dental checkups and cleanings as easy as possible is to visit your dentist regularly. If you attend an appointment every six months, it is unlikely that you will have significant buildup on your teeth. Therefore, it will be easier for your hygienist to do their job. Plus, regular preventive appointments allow your dentist to treat cavities and gum problems while they are still in their early stages — and before they start to cause you pain.
Here are some additional tips to promote comfortable cleanings:
Take ibuprofen before and after your appointment. This will help to fight your body's inflammatory response.
Ask to be numbed. Most dental offices are more than willing to provide topical anesthesia for patients who are nervous about getting their teeth cleaned.
Take good care of your teeth at home. Using proper techniques for brushing and flossing helps to keep your teeth as clean as possible between dental appointments and can reduce the amount of work that your hygienist has to do.
Be careful not to overbrush. Applying too much pressure when you brush your teeth can harm your enamel and contribute to gum recession. Both of these issues increase dental sensitivity and may make cleanings more painful.
Communicate with your hygienist. If you become uncomfortable during your cleaning, tell your hygienist. They will do everything they can to make the process easier for you.
Professional dental cleanings do not usually hurt. If you find them painful, however, there may be some steps you can take to lessen the discomfort.
Meet the Practice
Dr. Erick Anderson is a general dentist with decades of experience. He strongly encourages patients to attend regular cleanings and checkups, and he is proud of his hygienists, who do all they can to perform their job both thoroughly and gently. If you would like to learn more about Dr. Anderson and our team, contact us at 719-593-0988.