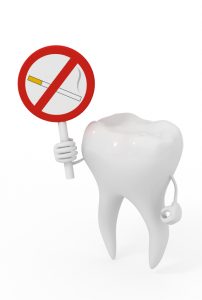 We all know that tobacco use causes significant health complications, such as cancer. With nearly 17 percent of adults in the United States using tobacco, it is the leading cause of preventable disease and death in America. While we all know the dangers tobacco use poses on your health, few understand the implications tobacco use has on oral health. Those who use tobacco, whether cigarettes, smokeless tobacco, or cigars, are at an increased risk for developing serious oral health complications, including periodontal disease, oral cancer, and tooth decay. As your dentist in Colorado Springs, Anderson Family Dental has the information you need regarding the effects tobacco has on your oral health.

Tobacco Use and Oral Health
Tobacco use causes a long list of potential oral health complications. In general, tobacco use limits the body's ability to heal and fight infections. Therefore, 50 percent of adults who use tobacco have a form of gum disease. Gum disease is an infection that occurs in the gum tissue. Due to the implications tobacco has on the body's immune system, those who smoke are more likely to develop the infection. Not to mention, continued tobacco use limits the effectiveness of periodontal therapy. Tobacco limits the body's ability to grow new blood vessels. As a result, healing is often slower after oral surgery or injury.
Tobacco also causes significant damage to the health of the teeth. In addition to stains and tooth discoloration, tobacco can also lead to tooth decay and tooth loss. It is estimated, tobacco users are nearly twice as likely to lose their teeth when compared to non-smokers. Plus, the need for root canal therapy is also twice as high.
When compared to non-smokers, tobacco users are 50 times more likely to develop cancers, including oral cancers. These cancers often impact the cheek, gums, and lining of the lips. However, the cancers can affect the tongue, throat, and other oral areas. With the long-term prognosis for oral cancers bleak due to late diagnosis, it is essential tobacco users undergo oral cancer screenings regularly.
Unfortunately, tobacco has more of an impact on oral health than just that of the smoker. Research shows that children who are exposed to tobacco smoke may have delays in the formation of permanent teeth. In addition, women who smoke while pregnant have an increased risk for giving birth to a child that has a cleft lip or cleft palate.
Protecting Your Oral Health
To protect your oral health from the negative implications of tobacco use, the best preventive step you can take is to stop using tobacco. However, we understand that is a challenge for many patients. We recommend you practice proper oral hygiene with brushing and flossing daily. In addition, you need to visit your dentist twice a year for regular checkups and cleanings. It is best to undergo an oral cancer screening at least once a year.
As your family dentist, we do not want to see your smile or oral health damaged from tobacco use. Contact our office today to schedule a consultation to discuss your options.