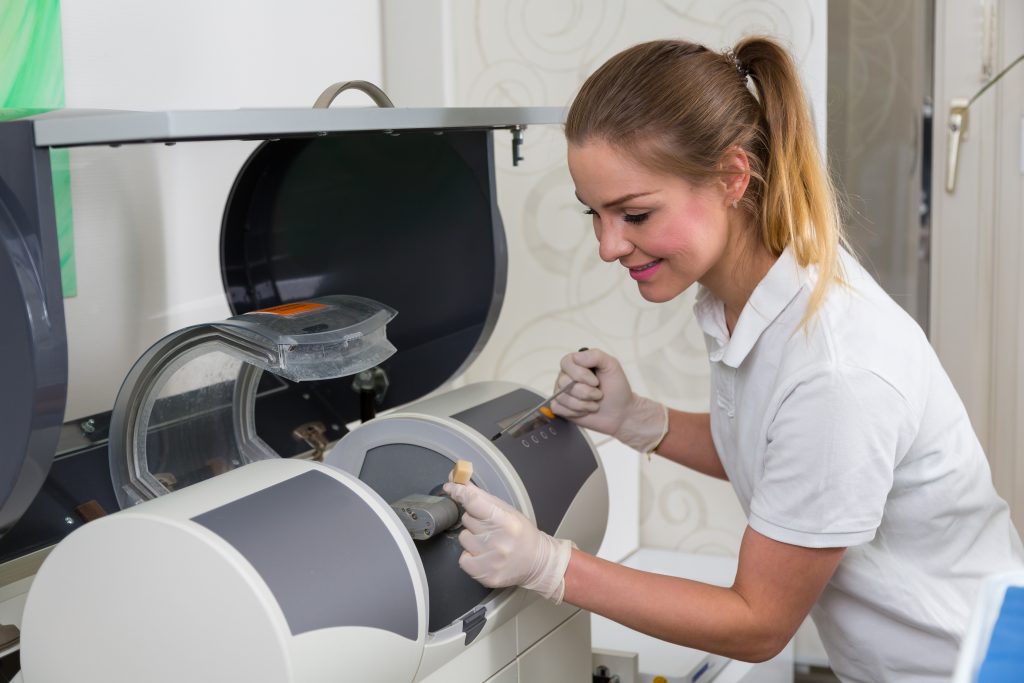 When tooth decay or damage requires more help than a simple filling can provide, a dental crown may be just what you need. Traditionally, the process for this restoration has taken two visits to the dentist with a week or two of waiting in between — but, using the latest technology, your dentist in Colorado Springs can complete the entire procedure in a single appointment. It's called chairside economic restoration of esthetic ceramics (CEREC), and it's making restorative dentistry more efficient and effective than ever before.
When and Why You Need a Dental Crown
A crown is a thin, tooth-shaped covering that is securely bonded around a damaged tooth. It completely surrounds the visible portion of the tooth, restoring its strength, shape, and overall appearance. Each crown is customized to meet the specific dimensions of the tooth it is restoring. Cared for properly, a crown can last for many years.
Some of the most common uses for a crown include:
Holding together a broken tooth
Restoring a decayed tooth when there is not enough room for a filling
Repairing a broken filling
Strengthening a weak or worn tooth
Making cosmetic improvements to a severely damaged tooth
Single tooth replacement (restores a dental implant)
Completing a root canal treatment
How CEREC Improves the Process
Traditionally, dental crowns require two visits to the dentist. During the first, your dentist would prepare the tooth for its new restoration by removing tooth enamel to make room for a new tooth on top. Impressions would be made and then sent to a separate dental lab, where the crown was manufactured and then shipped back to the dentist. In all, the process took about two weeks.
With CEREC, your dentist can plan, prepare, and place the dental crown in a single appointment. We do it with the help of special software and an in-house milling machine. First, your dentist evaluates the damage and removes any decay from the tooth. Then, the tooth is reshaped to make room for the crown — it needs to be wider at the base and skinny on top. Digital scans are then taken of the tooth and transferred to the CEREC software, where your dentist sketches out a blueprint for your new crown. With this information, the CEREC milling machine manufactures a beautiful restoration in a matter of minutes. The dental crown can be permanently placed soon after.
Benefits of CEREC in Colorado Springs
Smiles restored in just a couple of hours
No need to wear a temporary restoration, which may break
Digital scanning is more comfortable
Better treatment planning with improved accuracy in digital scanning
Restorations milled from natural-looking ceramic/porcelain
Crowns may fit better with improved treatment planning
Long-lasting restoration
Talk to Us Today!
Do you have a severely damaged or aching tooth? You may need a dental crown — and with CEREC at Anderson Family Dental, you can have it completed in just one visit to our state-of-the-art office! We invite you to contact us and schedule an appointment today.