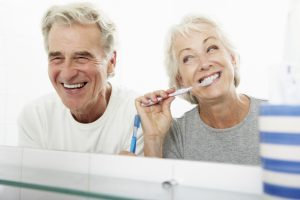 Losing teeth is detrimental not only to your confidence but to the structure and health of your smile. If you've recently lost teeth, the best thing you can do is replace them effectively. That's why your dental health team at Anderson Family Dental offers dentures for patients facing this problem. Don't think dentures may be right for you? Let's explore your options and how they help all types of patients.
What are dentures?
When teeth are missing, dentures can replace them with a life-like dental prosthetic. It's true that many older patients find a great solution with dentures, but this restorative option isn't just for the elderly. Dentures help so many other patients as well! If you're thinking about replacing a significant number of teeth, this is a great option to replace several teeth or even a whole row. Let's take a look at the several types of dentures Anderson Family Dental offers:
Complete Dentures
Complete dentures are a full set of prosthetic teeth attached to a gum-colored base used to restore your ability to speak, eat, and smile confidently. If you're facing severe tooth loss—one or both arches of your teeth—this could be the perfect solution for you!
Partial Dentures
Do you have sporadic missing teeth in your mouth? A partial denture fits like the perfect, custom puzzle piece to replace those missing teeth.
Implant-Supported Dentures
Patients sometimes experience difficulties with dentures alone (slippage, unpleasant adhesives, etc.). Now, we can combine dental implants and dentures to anchor your dentures to your jaw, truly providing the best tooth replacement option for patients missing multiple teeth.
What are the other benefits of dentures?
When you choose to get dentures from Anderson Family Dental, we provide additional support for facial muscles, improve the patient's overall comfort, and provide dramatic aesthetic improvements. In fact, today's advancements in technology make creating dentures that mimic your natural teeth easier than ever! Here are the benefits that you will experience when you use dentures.
Versatility
As explained above, there are several types of dentures available, including full and partial sets. Complete (full) dentures are ideal for patients that have lost majority of their teeth. Partial sets are for patients that need to fill gaps or spacing within their smile.
Functionality
Our dentures are designed to be comfortable, beautiful, and fully functional. We can restore your ability to eat and speak clearly. You won't even realize that these are replacement teeth!
Aesthetics
Our dentures are crafted from high-quality dental materials to perfectly match your natural teeth. Even if you have a full denture, other people won't be able to tell that you have replacement teeth.
Contact Anderson Family Dental
Missing teeth can cause even bigger problems for your health down the road if they're ignored. If you have missing teeth, it's time to move forward with restoring your optimal health and replace those spots in your smile! Contact our office today to schedule a consultation about tooth replacement.