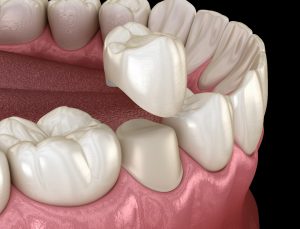 Has your dentist recommended that you get a dental crown? Your restoration could renew the appearance, function, and health of a damaged tooth. Still, you might feel a little nervous about the procedure. What does it feel like? Will it hurt? Let's talk about the answers to these important questions.
Preparing Your Tooth
The dental crown procedure requires that your tooth's shape be modified so it will fit beneath its new restoration. Your dental team will make sure that your mouth is numb for this part of your appointment, so you should not feel any pain. However, you might feel some pressure on your tooth because while local anesthesia blocks pain, it does not eliminate sensation altogether. For most patients, the most uncomfortable part of the process is when the numbing agent is injected.
Designing Your Crown
In order to make sure that your crown is a perfect fit for your tooth, your dental team will need to take impressions of your mouth. Many dentists still use manual impressions, which can be a bit uncomfortable for patients. However, some have upgraded to digital impressions. Digital technology allows for ultra-accurate impressions — without the goop and uncertainty of manual methods.
Placing the Crown
If your dentist uses traditional methods of crown preparation, you'll need to wear a temporary restoration for a while before your permanent one is ready. Temporary crowns don't fit as well as permanent ones, so it might feel odd in your mouth. However, severe pain is quite rare, and it usually indicates an oral health problem, not a problem with the crown itself.
If your dentist offers one-visit CEREC crowns, you'll be able to get your permanent restoration right away and avoid the hassles of a temporary crown. Your mouth might still be numb from your tooth preparation, so you should feel very little while your CEREC crown is being cemented into place. After you go home and the numbness wears off, you might notice that your gums are a little sore. However, that should subside relatively quickly.
The new crown itself should feel quite natural in your mouth; CEREC crowns are made out of high-quality porcelain that looks and feels very similar to real tooth enamel.
Talk to Your Dentist about Your Concerns
There is no shame in being a bit nervous about getting a dental crown. Talk to your dentist about your concerns, particularly if you have a strong gag reflex, a degree of dental phobia, or another problem that will require your dental team to take extra steps to ensure your comfort. For example, you might be a good candidate for sedation.
Getting a dental crown is easier than most people expect! If you have questions about the process, your dentist will be happy to speak with you.
Meet the Dentist
Dr. Erick Anderson is a general and restorative dentist in Colorado Springs with decades of experience. He is one of only a handful of dentists in our area who offer same-day CEREC crowns, and he takes pride in going the extra mile to ensure patient comfort. To learn more about him and how our practice may be able to serve you, contact us at 719-593-0988.