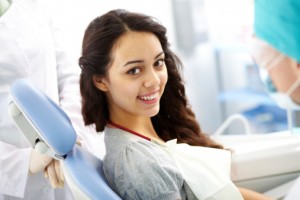 A severe toothache can negatively impact your mood and ability to concentrate, making it difficult to get through your day and take care of the things that matter most. When you are in pain due to a root canal infection, it's nigh impossible to think of anything else. While no one necessarily wants to undergo root canal treatment, suffering through constant discomfort and potentially losing your entire tooth isn't exactly a viable option, either. At Anderson Family Dental in Colorado Springs, CO, our team can alleviate your worries and fears surrounding root canal treatment and provide you with a lasting solution to tooth pain.
Preserve Your Natural Smile with Root Canal Treatment
Within each of your teeth is a nerve-filled center within a deep canal that extends down through the root and into the jaw. When decay infiltrates a tooth and reaches this inner chamber, the result is an infection that may lead to a dull ache, sharp pain, increased sensitivity, and even an abscess. Without treatment, an infected root canal may lead to the need for extraction in order to prevent additional damage to surrounding teeth and the jaw bone.
Rather than remove the diseased tooth – which would eventually require replacement with a dental implant or bridge – our doctors can treat it with root canal therapy. The infected tissue is removed and the area is cleansed thoroughly. The tooth is then covered with a custom crown crafted from color-matched dental porcelain for a realistic appearance and unparalleled durability. Your newly restored tooth will be pain-free, strong, and beautiful, allowing you to smile, eat, and speak with confidence and comfort.
Root Canal Therapy Colorado Springs Families Trust
At Anderson Family Dental, we understand that root canal treatment has developed a poor reputation over the years, albeit undeserved. Your root canal therapy appointment with Dr. Erick and Dr. Richard will be just as comfortable and relaxed as any other visit to our warm and inviting dental office. As the top dentists in the Colorado Springs, CO area, we even offer proven sedation dentistry options for patients who need a little extra help feeling calm before and during their treatment. Contact us today to schedule your visit with the Anderson Family Dental team, and experience what a difference our commitment to your comfort, safety, and satisfaction can make in your next appointment.
Our conveniently located dental office in Colorado Springs, CO is privileged to serve families from throughout the surrounding areas as well, including Stratmoor, Fort Carson, Falcon, Black Forest, and beyond.