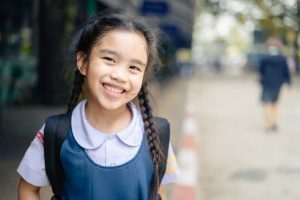 Life can get a little hectic when you're preparing to send the kids back to school. You might have to shop for new clothes, pick up a long list of school supplies, and coordinate transportation for all your family members. In all of the back to school chaos, it can be all too easy to forget to bring your kids to your family dentist for their biannual checkup and cleaning. Let's talk about why you shouldn't skip this routine appointment and why the back to school season is the perfect time to get it taken care of.
The Importance of Oral Hygiene
Have your kids been indulging in S'mores, lemonade, and ice cream all summer? Such treats are delicious, but they can also wreak havoc on the teeth. A back to school dental visit can clean out any lingering plaque that might have accumulated there over the summer months, which can go a long way toward preventing cavities. The hygienist can also give your child some friendly reminders about how and why they should work to adopt excellent oral hygiene habits.
No Missed School
Dentists always try to accommodate their patients' schedules. Sometimes, though, it isn't possible to get an appointment time that doesn't require your child to miss out on school. If you schedule your child's appointment for before they head back into the classroom, you won't have to worry about them missing out on a second of their education.
Plus, a dental checkup will reveal any developing oral health problems that might require treatment. Getting such issues taken care of now — before they lead to a dental emergency — may prevent your child from having to miss school due to a toothache.
Give Your Kids a Confidence Boost
When kids go back to school, they love to talk about what they did over the summer and show off their new clothes. A freshly cleaned smile can give them something more to brag about. When their mouth feels fresh and is free of painful dental problems, they'll be able to laugh and play with their friends with total confidence.
Prepare for Sports
Does your child plan on playing sports this school year? During their back to school dental appointment, ask about getting a custom mouthguard for them. Custom mouthguards are much more comfortable than store-bought ones, and they provide a superior level of protection. Not only do they drastically reduce the risk of sports-related mouth injuries, but they can also help to prevent concussions.
Have you scheduled your child's back to school dental visit yet? If not, now is the ideal time to request an appointment with your family dentist.
About the Author
Dr. Erick Anderson is a family dentist in Colorado Springs who has been practicing for 25 years. He enjoys working with patients of all ages, including young children. If you would like Dr. Anderson's help to keep your little one's smile in the best shape possible, contact our office today at 719-593-0988.