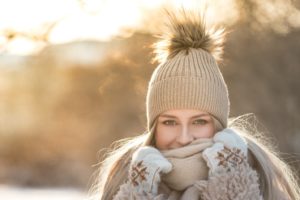 There is a lot to love about winter. It is the season of cozy days by the fireplace, majestic snowcapped mountains, and a favorite of Colorado natives, winter sports. As enjoyable as winter can be, however, it also comes with its fair share of problems. For example, many people experience winter mouth issues like sensitive teeth, dry mouth, and chapped lips. In this blog post, we'll discuss how you can deal with these problems so you can fully enjoy your winter activities.
Sensitive Teeth
When most people think of sensitive teeth, they think of the irritation caused by hot and cold foods. However, cold air can also cause discomfort. If your teeth are sensitive, it may be because the enamel has become thin, you have experienced gum recession, or you have a spot of untreated decay. Cold air can even cause tiny cracks in the teeth as they expand and contract in response to extreme temperature changes. Your local general dentist is the best person to diagnose the cause of your sensitivity and recommend an appropriate course of action.
In the meantime, you might be able to lessen the sensitivity by using a sensitivity-reducing toothpaste. Also, always try to breathe through your nose, especially when you are outside. Wearing appropriate winter gear, such as a balaclava or scarf to cover your mouth, may also shield your teeth from frigid air.
Dry Mouth
Humidity levels can plummet outside during the cold winter months. Inside, forced air heat or wood heat can also suck moisture from the air. A cold or a flu could force you to breathe through your mouth. All of these factors can contribute to dry mouth, which is uncomfortable and can increase your risk of developing a cavity. To keep your mouth moist, you should:
Drink plenty of water
Chew sugarless gum to encourage saliva production
Purchase a humidifier for your home
Limit your intake of caffeine, alcohol, and salty foods
Chapped Lips
The same factors that cause dry mouth during winter can also contribute to chapped lips. Drinking plenty of water can help. Also, many types of lip balm contain beneficial oils that can lock moisture into your lips. However, keep in mind that if you have a lot of dry, flaking skin on your lips, any balm you use may not be as effective as you hope. Gently exfoliating your lips can remove dead skin and give your lip balm a chance to really quench them.
Are you struggling to cope with winter mouth issues? The above tips, along with guidance from your dentist, can help your smile to stay healthy and comfortable throughout the season.
About the Author
Dr. Erick Anderson is a Colorado Springs native. He is a second-generation family and general dentist who loves to establish trusting, long-term relationships with patients. If you have questions or concerns about the health of your mouth this winter, he would be delighted to offer advice and any necessary treatment. To learn more about him and our practice, contact us at 719-593-0988.