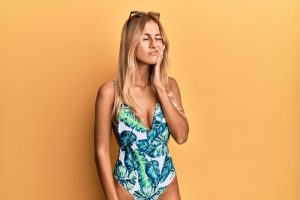 Do you have plans to get away from it all this summer? Whether you are taking a domestic adventure to the beach or you are traveling abroad, you may be eagerly looking forward to your escape. Unfortunately, some people find that their summer vacation is interrupted by a painful dental emergency. If that happens to you, what should you do? Here are some helpful tips:
Prepare for the Unexpected
No one wants to think about the possibility of a dental emergency, but it is wise to think ahead. Here are a few steps you should take before your vacation:
Go in for a checkup. Your dentist can identify any developing oral health problems that might cause an emergency later on. Hopefully, you will have time to receive proper treatment before you leave for your trip.
Get insurance. If you are traveling abroad, try to purchase an insurance policy that covers dental healthcare outside of the U.S.
Find a Dentist
When you face a dental emergency, one of the first things you should do is contact a dentist. If you are in the U.S., it should be pretty easy to use Google to find a reputable practice that accepts emergency patients. Be sure to glance through reviews so you can find a dentist who is known to provide comfortable, effective treatment.
If you are traveling abroad in an affluent country, Google may still be a great resource for finding a dentist. In less-developed countries, though, some dentists may not have their business listed online. You might be able to ask your hotel concierge or your travel insurance company to point you toward a dentist who could serve you.
Also, be sure that a dentist is the right person to help you. If you are bleeding excessively from the mouth or experiencing other life-threatening symptoms, your first stop should be a local hospital.
Perform Basic First-Aid
Here are some tips to help you manage your pain before you are able to see a dentist:
Use pain management tools. You could take some ibuprofen or apply a topical numbing gel to your aching tooth.
Rinse with warm salt water. Salt water can kill bacteria and minimize inflammation and swelling.
Preserve your tooth. If a tooth gets knocked out, carefully rinse off any debris and store it in a glass of milk. If you receive care ASAP, a dentist might be able to splint the tooth back into place.
Adjust your eating habits. Try not to eat using a damaged or aching tooth. It would also be smart to avoid crunchy foods, as well as anything that is extremely hot or cold.
Hopefully, a dental emergency will not disrupt your summer vacation. If it does, use the above tips to manage the situation as well as possible.
Meet the Practice
Dr. Erick Anderson and the team at Anderson Family Dental are usually able to see emergency patients on a same-day basis. If you are on vacation in Colorado Springs and need urgent oral care, we would be happy to do what we can for you. Contact our office at 719-593-0988.