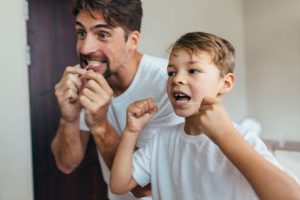 In all the busyness of daily life, it can be easy to forget about small but important details. For example, despite their best intentions, some people do not brush and floss their teeth as often as they should. Other people let good oral hygiene slip by the wayside because they are overwhelmed with everything else that is going on in their life. How can you make brushing and flossing a daily habit? Here are a few tips:
Try Habit Stacking
Habit stacking is the idea that, instead of trying to do something at a certain time, you should do it immediately after (or before) another activity that is already ingrained in your routine. For example, lots of people visit the bathroom first thing in the morning. You could pair that habit with brushing your teeth. You could also pair it with washing your face, saying your daily affirmations, or other activities that you never forget about.
Set a Reminder on Your Phone
Most people are glued to their smartphone. If that is true of you, you can use your device to power up your oral hygiene. You can use your regular calendar app to set reminders about brushing and flossing. You could even download a dedicated oral hygiene app; some apps even have a timer that helps you brush your teeth for the recommended two minutes.
Consider the Future
Some people find it helpful to contemplate the cumulative consequences of their daily actions. For example, it might motivate you to brush and floss if you research the potential outcomes of poor oral hygiene. Gum disease, decay, discolored teeth, and tooth loss are just a few possible issues that could result from long-term missteps in how you care for your smile.
Bring Your Supplies with You
If you sometimes forget about brushing your teeth until you are out the door and on your way to work, consider packing a small oral hygiene kit in your purse or briefcase. That way, you will be able to give your mouth a quick cleaning when you are at the office.
Make it a Team Effort
It may be helpful to enlist the help of your loved ones as you strive to improve your oral hygiene habits. You, your partner, and your children can all remind each other to stick to good daily practices. You could even add a bit of fun by creating a sticker chart to track your progress.
Buy the Right Supplies
If brushing and flossing feel tedious, you could try to make it more enjoyable by upgrading the tools you use. For example, you could invest in a high-quality electric toothbrush or some premium toothpaste. You could even try a water flosser (traditional floss is slightly more effective, but using a water flosser is definitely a step in the right direction).
Is it a challenge for you to brush and floss every day? The above tips might help you improve your habits!
Meet the Practice
Under the leadership of Dr. Erick Anderson, our team provides top-quality oral health services to families in Colorado Springs. If you would like our guidance as you strive to take better care of your teeth and gums, we are ready to support you. Contact our friendly staff at 719-593-0988.