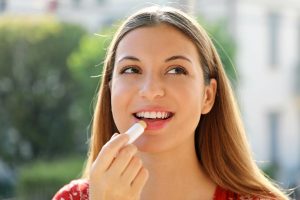 Here in Colorado, we love the outdoors. Whether you plan on going on awesome hikes, conquering some mountain biking trails, or just hanging out by the local pool this summer, it is important that you prevent overexposure to the sun's harmful UVB rays. It is easy to remember to apply sunscreen on your body, but are you protecting your lips as well? Let's talk about why it is so important to protect your lips from the sun and how you can do so.
Why Protect Your Lips?
Your lips have a very thin layer of skin, which automatically makes them more vulnerable to burns than the rest of your body. Your lower lip may be at an extra high risk because of its shape and upward-facing angle. Sunburns on the lips are particularly painful when you try to eat or smile. Severe burns can even lead to small, white, fluid-filled blisters.
Burns are just the short-term consequence of failing to protect your lips. Repeated sunburns over the years can greatly increase your risk of developing skin cancer or oral cancer on or around your lips. Again, the lower lip is particularly at risk; research has found that it is 12 times more likely to develop cancer than the upper lip.
How to Protect Your Lips
One of the simplest things you can do to protect your lips is apply a lip balm with SPF. Many balms come with an SPF of 15, which filters out 93% of harmful UVB rays. That is good, but if you can find a lip product with an SPF of 30, use it instead. SPF 30 filters out 97% of UVB rays. Apply the lip balm before you go out in the sun, and reapply it every two hours or so (or if your lips become wet due to drinking, licking, or other factors).
Here are a couple of additional tips for protecting your lips from the sun:
Stay out of direct sunlight during the hottest part of the day. This is usually between 11:00 AM and 4:00 PM.
Wear a hat. A hat with a wide brim might produce enough shade to shelter your lips.
Helping Burned Lips to Heal
If you do end up getting a sunburn on your lips, try to stay out of direct sunlight until you heal. In the meantime, you can soothe the burn by applying aloe vera or topical anti-inflammatories. If you experience severe swelling or pain, it may be wise to visit a doctor to discuss the problem.
Are you doing all you can to protect your lips this summer? Your diligence will spare you from painful burns and might even prevent cancer!
Meet the Dentist
Dr. Erick Anderson is a general and family dentist in Colorado Springs. He has decades of experience. He includes oral cancer screenings as a routine part of every checkup. If you would like his advice on how to care well for your mouth, contact our team at 719-593-0988.