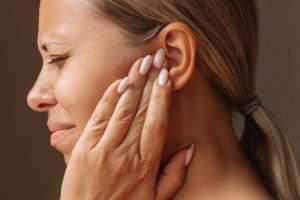 Pain in any area of your face may distract you from necessary tasks and make you miserable. You might be tempted to tough it out without seeking professional care, but did you know that your facial pain could actually be a dental emergency? This blog post discusses some oral health issues that may cause pain in the face.
Dental Abscess
A dental abscess is an infection in the interior chamber of a tooth, known as its pulp. In addition to causing intense oral pain, it can also contribute to swelling and tenderness in your neck, jaw, and ear. Abscesses should be addressed as soon as possible. The longer they go without treatment, the greater the risk that they will cause systemic illness and other severe complications.
Dry Socket
If you recently had a tooth extracted, there is a small chance that you could develop dry socket, a painful condition wherein the blood clot at an extraction site gets dislodged. The pain may radiate from the extraction site, causing pain throughout the side of your face.
Dry socket requires prompt treatment. Otherwise, you could experience worsening pain. You might even get an infection in your jawbone.
Temporomandibular Joint Disorder (TMD)
Your temporomandibular joint (TMJ) connects your lower jaw to the rest of your skull. It is somewhat delicate, and when it is not functioning properly, it can cause a range of symptoms. For example, you might experience sore facial muscles, facial pain, neck aches, back aches, difficulty chewing, and more.
While TMD symptoms may eventually go away on their own, it is still a good idea to visit a dentist for a thorough assessment. They may be able to identify and address the underlying issue so symptoms are less likely to recur in the future.
Other Potential Causes of Facial Pain
Some causes of facial pain are not related to dental health. For example, it may be the result of a migraine, sinus infection, trigeminal neuralgia (a dysfunction of one of the nerves in your face), or various types of injuries.
The best way to tell if your pain is a dental issue is by evaluating all of your symptoms as a whole. If you recently underwent dental treatment, you have a toothache, or your jaw is in pain, it is likely that you should visit a dentist. Otherwise, the best course of action may be to see your primary care provider.
Don't let facial pain slow you down! Seek treatment promptly so you can get back to feeling your best.
Meet the Practice
Under the leadership of Dr. Erick Anderson, Anderson Family Dental in Colorado Springs offers general oral health services. We are often able to arrange our schedule to see emergency patients on the same day they call us. If you are concerned about facial pain or anything else that may be related to your dental wellness, get in touch with us at 719-593-0988.