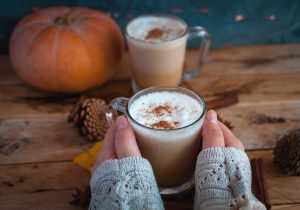 Starbucks' pumpkin spice latte launched 16 years ago. Since then, the giant coffee brand has sold hundreds of millions of its signature fall drink. Many other companies have launched their own versions of pumpkin spice flavoring. Indeed, it is difficult to resist the warm, comforting allure of this delicious concoction. Of course, when you aren't indulging in fancy coffee, you might be sipping on other hot drinks, like plain coffee or tea, to stave off the chill of autumn. As you enjoy such beverages, you might begin to wonder, "Are hot drinks bad for my teeth?" Let's discuss this important question.
The Temperature Won't Damage Your Teeth
Whether a drink is hot or not has little to do with its effect on your teeth. As long as it isn't hot enough to damage the soft tissues in your mouth, you can enjoy high-temp beverages with a clean conscience. If a hot drink causes your teeth to feel pain, that is likely due to an underlying dental problem, such as a cavity, receding gums, or thin tooth enamel. Your dentist can help you figure out the cause of the problem and offer a solution.
Beware of Sugar and Acid
Hot drinks are unlikely to damage your teeth — unless those drinks are chock full of sugar. A pumpkin spice latte might have 50 grams or more of the sweet stuff! All of that sugar can interact with the bacteria in your mouth and cause harmful plaque to form. It's best to ask your barista about sugar-free drink options.
If your tastes favor hot drinks other than pumpkin spice — such as tea or drip coffee — you might still be putting your teeth at risk. Resist the urge to add a lot of sugar to your drink. Also, remember that coffee and tea are acidic in nature. It's best to consume them in moderation so they do not end up eroding your tooth enamel.
Watch Out for Stains
The majority of hot drinks, including most kinds of coffee and tea, have the potential to stain your teeth. The pigments in such beverages can sneak into tiny pores in your tooth enamel and lead to discoloration. To keep staining to a minimum, enjoy your hot drinks through a straw, and use a whitening toothpaste to fight surface stains. If your teeth are seriously yellow or dull-looking, consider visiting your dentist to ask about a professional whitening treatment.
It's okay to enjoy some hot drinks this fall — but do so in moderation, and try to avoid overloading on sugar. A few simple precautions can help your smile thrive throughout this season and well into the future.
About the Author
Dr. Erick Anderson is a general dentist in Colorado Springs who graduated from Oregon Health Sciences University more than two decades ago. He is passionate about helping members of his community to maintain their oral health through patient education and regular checkups. If you would like to ask him about how you can safeguard your smile this fall, contact his office at 719-593-0988.