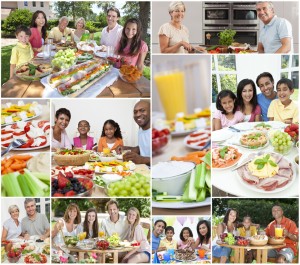 Every year in March, the Academy of Nutrition and Dietetics observes National Nutrition Month®, encouraging people of all ages from around the world to improve their diet and overall health. At Anderson Family Dental, your local Colorado Springs, CO dentists want to take this opportunity to emphasize the importance of proper nutrition, and how it affects your smile and oral health in general.
How Diet Affects Your Smile
The two most common oral health issues we face today are gum disease and tooth decay. Fortunately, these can be relatively easy to prevent with proper oral hygiene practices, regular visits to your dentist, and a balanced diet of quality foods. Some of the ways you can stick to this healthy routine while still enjoying the tasty snacks and foods you love include:
Mix it up. If your favorite afternoon snack is a bag of pretzels, chips, cookies or crackers, add a side of fresh fruit or cheese to balance out the acids and fermentable carbohydrates in your mouth. This can keep soft, sticky particles of food from clinging to your teeth, reducing your risk of developing cavities.
Hydrate often! Keeping your mouth moist ensures that your saliva can do its job: protecting the hard and soft tissues (and it helps prevent bad breath as well).
Don't deny yourself. Many people looking to lose weight or simply cut back on certain foods take the idea of "dieting" to mean absolute restriction. If you eliminate entire food groups, though, you can put yourself at risk of malnutrition. Poor general health will inevitably become apparent in the state of your smile.
Feed Your Smile Right!
How will you celebrate National Nutrition Month® this year? Eating healthful, delicious foods that you truly enjoy enriches your life and bolsters your oral health, keeping you and your family smiling all year round. Contact us at our conveniently located Colorado Springs, CO practice to find out more about how your diet affects dental wellbeing. We also happily serve patients from throughout surrounding communities in Black Forest, Falcon, Stratmoor, Fort Carson and beyond. We look forward to seeing your beautiful smile!